Our Story
We hope that in reading this letter and looking at the special times that we have shared that you have some sense of who we are. We would be so blessed to be chosen as adoptive parents. We promise to provide a loving and supportive home, a place to grow, learn, love and be loved. He or she will be guided to blossom into their own unique person, celebrate their given talents, and pursue what brings them joy. Our home is a place of comfort, where a warm hug will always be waiting.

The things that matter the most -- unconditional love, encouragement, support, respect and trust -- is what our marriage is built on and our family will grow with the same ideals.

We are excited about this new phase in our journey together and look forward to bringing another child into our lives. We are honored to be considered as adoptive parents and we would love the opportunity to meet with you.
Our Home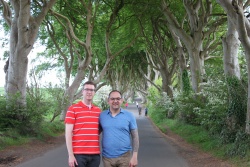 Our home is filled with love and we are surrounded by close family. Our neighborhood has great schools, beautiful parks and trails for bike rides. Our neighbors are lovely and we have tons of children on our block. We are so lucky to live in such a wonderful place where we can raise our family.
Lewis is determined and a hard worker as well as being loving, caring and encouraging. He is a contract manager for a government contractor. Lewis is a great person with a huge heart who will always go out of his way to put a smile on anyone's face. When it comes to family, no favor is too big or small. He would go to the ends of the earth to help a family member, and will always make time to be a supportive father, brother, uncle and son.

Lewis spends his nights and weekends teaching yoga. He finds it deeply fulfilling to help others find peace through yoga. He has been studying the art since 1999 and has been teaching since 2009. Lewis also enjoys bike rides and travel. Some of his favorite things to do while we travel is try new foods from different countries.

Above all else, he is the most amazing father. He is a wonderful role model and dad to Florence. He enjoys taking her to the beach and on walks with our dog. He is so excited to welcome another baby into our family.
Travis is the most thoughtful and caring person I ever met. He has made a career in the U.S. Army. He truly goes out of his way for others, whether it be a shoulder to cry on, helping to move furniture, or a place to stay during hard times, his family and friends know they can always count on him.

Travis loves do-it-yourself projects. He is very crafty and enjoys working with his hands. He has built outdoor furniture, outdoor hardscapes, and multiple bookshelves for our home. Travis is naturally curious. His curiosity has led him to travel the world and explore different cultures and environments.

Children are naturally drawn to Travis, and it was no different with Florence. She absolutely adores him and looks up to him in so many ways. He is a fantastic dad and is so thrilled to make new memories and traditions as a family of four.