Our Story
We are Andrew and Amanda. We have been married for three years and together for ten. We lived down the block from each other our whole lives and circled the same groups of friends but weren't close to each other until right after high school. We don't really have one of those "when we first met stories" because we grew up knowing each other. One night we walking home together from a party we were both at, and we bonded over mutual interests. We talked about some of our favorite TV shows (The Office), as well as our shared love of reading sci-fi and fantasy novels. Our friendship quickly turned into a relationship. After seven years together, we finally got married at the Morton Arboretum, one of our favorite special places. It was a small, intimate ceremony with only our immediate families, but it was absolutely perfect!
Our Home
We live in the south suburbs of Chicago. We live a block away from an elementary school and two playgrounds. Every Saturday or Sunday we visit Andrew's mom who lives only a few blocks away, or Amanda's parents who are only 30 minutes away. Andrew has a younger sister and Amanda has a younger sister and brother. We both come from big extended families who are all very supportive and excited to meet the newest member of the family!
Andrew (Written by Amanda)
One of the first things that I really noticed about Andrew was how incredibly patient is he. He never lets the hard times get to him and he takes life's difficult situations and breaks them down logically. Andrew is very adventurous and loves to be in nature. We try to go hiking a few times every summer and Andrew always picks the less traveled trails or goes off trail entirely. He cares deeply about our impact on the earth. At home you can usually catch him reading environmental science articles if he isn't playing video games.

Andrew is one of the most understanding people I have ever met. He has this uncanny way of looking at the world, people, and situations without judgment. He inspires me to want to do the same. He is extremely loyal and devoted to his family, friends, and interests. I wouldn't want to go through the ups and downs of life with anyone else.
Amanda (Written by Andrew)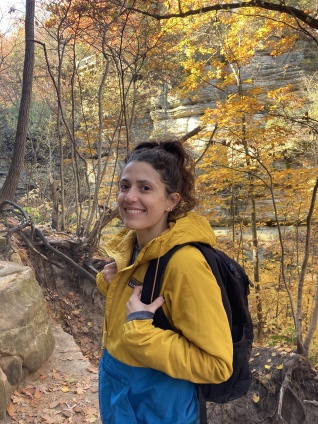 Amanda is easily the most compassionate, empathetic, and selfless person I have ever met. She always acts with others best interests at heart and thinks of everyone else first. She is constantly trying to learn new things or find something new to get into. She's also extremely determined and can achieve anything she sets her mind to. Amanda is also super creative and artistic. She loves painting, although she dabbles in a variety of mediums, from drawing, to watercolor, to digital art and everything in between. She also loves crafts, so we usually end up doing a little project every holiday. Amanda loves getting out in nature, so we try to go hiking as often as we can and enjoy the sun and fresh air. Amanda often takes dozens of pictures of the trees and flowers, which she always uses as inspiration in her artwork. She also has an intense passion for reading, which she does every chance she gets. She likes playing games, so we often enjoy playing chess or cards, especially when spending time with her family. She also loves to cook and is constantly trying new delicious recipes.