Our Story
We both teach at the same school and met there when we started working there the same year. We went on a few dates the first year that we met but things didn't work out. We went our separate ways romantically but ended up becoming good friends in the following years. Four years later in 2013, we ended up both being single and started spending more time together. We realized that our close friendship had turned into something more and started dating again. Then after three years together, buying a house, a year engagement and many adventures in between, we got married on July 8, 2017.

Nick has sole custody of his 13 year old daughter Abigail and she lives with us full-time. We started dating when Abby was 6 so we have been a little family for more than half of Abby's life. One of our best and proudest accomplishments has been watching Abby grow up. We make parenting decisions together and are doing our best to help Abby become a kind, caring, and well-rounded human being.

We are a loving, fun, and caring family. As teachers, we spend every day with kids and enjoy helping them learn and grow. We love Friday family movie and take-out nights, board games, and cooking together. We believe that there should always be some form of homemade baked goods on the counter. We have dinner at the dining room table together as a family every night and enjoy sharing the best part of our day as we eat. We have a close knit extended family who live near-by. We are committed to each other and put family first, always.

Our Home
We live in a two-story, 4 bedroom house in a residential, suburban neighborhood. Our house is located next to our local elementary school with a playground and sports fields. We have a large yard with an above ground pool and a fire-pit. Although we live in a small city, our town is in a rural area and surrounded by farmland. We enjoy going out into nature for hikes, skiing in the winter and boating in the summer!

Nick's parents live in the same town a few blocks away from our house. We see them on a regular basis and are constantly dropping in on each other. Kelcey's family lives about 45 minutes away. We see them regularly and enjoy Sunday dinners with her parents and Kelcey's siblings every few weeks.
All About Nick (by Kelcey)
Meet my husband Nick! I may be a little biased, but I think he is pretty great! Nick is an 8th grade Social Studies teacher and loves history, especially US History and Abraham Lincoln. He is very well liked by his students and we can't go anywhere in our town without a current or former student calling his name or saying hi. Nick also loves music and played guitar in a band back in the day. In his free time, he likes to pick up one of his guitars and play around. Since buying our house and building his tool collection, Nick has enjoyed building things for our home. Last year he built me beautiful built-in book shelves and a deck for our pool!

Nick is one of the most thoughtful, caring and funny people I know. He will drop everything to help a family member or friend and puts the needs of others above his own. He is already a fantastic dad to Abby and I can't wait to see his dad-skills at work with a baby. Nick always does everything he can to make mine and Abby's lives easier and we are beyond lucky that he's our guy.
All About Kelcey (By Nick)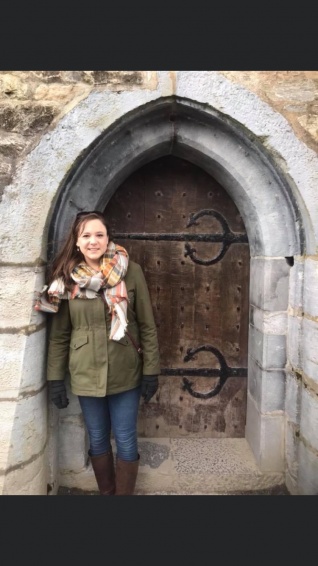 Let me tell you about my wife, Kelcey! Kelcey works as a 5th grade Special Education Teacher. She is one of the most caring and generous teachers I have ever seen. Many of her students come from difficult backgrounds and have learning, emotional or behavioral challenges. She goes out of her way each day to make them feel important and cared for.

Kelcey enjoys baking, reading, collecting books, and crocheting. She loves animals and would have a house full of cats and dogs if we had the room.

Kelcey is my best friend and a perfect partner. She is the most kindhearted and patient person that I know. This is good because she uses this kindness and patience with me. Her family has welcomed Abby and myself in as full members of their family. Kelcey was able to easily transition her role in Abby's life and has been a perfect step mother to her. Our family of three has been incredibly rewarding but we are now looking to grow our family.