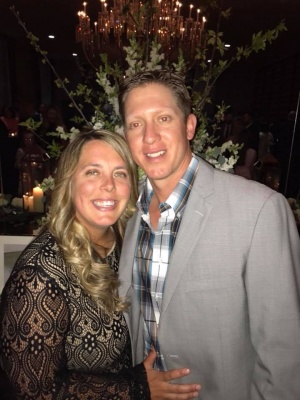 Our Story
Ben's first job as a fireman was in my home town. As luck would have it, he was assigned to attend paramedic academy with my best friend's husband. We were never formally introduced, but he saw me in passing and started sending me messages on the internet, which I ignored! One day, we both coincidentally ended up at Target while our mutual friends were shopping. We walked the isles of the store and talked for a couple hours. That night, Ben sent me another message and said "Now that I'm not a stranger on the internet, will you please go out with me??!"

We went out the next weekend and were inseparable from then on. Just a year and a half later we were engaged and after another six months we were married. It sounds crazy, but we both just knew we wanted to spend the rest of our lives together!

Our Home
We live in the country on our working cattle ranch. There's so much space outside to play and explore. Ben and I love to scope out big, sturdy trees and imagine future tree houses! We really have one of the neatest properties around. There are a lot of ponds to go fishing in, as well as a spring fed creek that runs through the property that our nieces and nephews love to swim in! We have a four wheeler trail that takes us to Tara's parents, Gram and Gramps', house. They are putting in a huge swimming pool with a slide and a lazy river right now, which all the grandkids are excited about!

Our house and life isn't cookie cutter, but we really couldn't imagine living any other way. We have the best sunset views from our front porch and peaceful nights with open skies for awesome star gazing.

We are real animals lovers. It seems like every time I turn around, some new animal is showing up on the farm! We have two older Australian shepherds, Harley and Sissy, that live inside. They are just too smart for their own good. I thought Ben was leaving doors open around the house until I figured out Harley had figured out how to turn the door knobs! Then Smokie and Bandit are our two outside dogs that love to swim in the ponds and chase the cows. We also have two barn cats that keep the mice away. At any given time we have 25-45 cows on the property, and we pretty much have all of them nicknamed. They all have their own personalities.

The latest addition to our funny farm is Bonnie, a paint horse mare. She loves to go for evening rides, because she knows a "cookie treat" will be awaiting her when she gets back to the barn.

Tara is one of the smartest, kind hearted, and strong willed individuals I know. She has worked extremely hard to become the wonderful woman she is today. Tara knew from a young age that she wanted to help people, which turned into a career in nursing. After awhile, Tara went back to school and got her Masters as a Nurse Anesthetist and to top it off, she obtained her Doctorate in Nursing Practices the same time as she was getting her Masters! Tara has never let anything get in her way. It's one of the things that I admire the most about her.

Tara has two other sisters, whom she is very close with, and multiple cousins, aunts, uncles, nieces, and nephews. Tara's father instilled in her at a very young age that one of the best things in life is the love that a family shares. One of the things that I love most about Tara, is how she can get dressed up and go to a formal dinner one evening, and the next she's helping me saddle a horse! She is very smart in many different areas of life and not afraid to get dirty too! In the midst of everyday life, Tara can somehow find the time to keep the yard mowed, do the laundry, clean, and work her full time job to help provide for our family. She truly is an amazing wife, daughter, sister, and friend and I know that she will be the most amazing mother one day.

Ben is an amazing man who strives to uphold the Christian values he holds so dear. He also works hard as a cattle rancher, welder, and being a career fireman. I absolutely can't wait to watch him also take on the role of Dad.

Ben was raised in a small town in a loving home with his parents, brother, and sister. He knew when he was six years old that he wanted to be a fireman and help people. After graduation, he set out to do just that. He's now been a firefighter/paramedic for 13 years and I don't know if he's ever "worked" a day in his life. He loves it that much. Several years ago he came to me with a dream to build our own working cattle ranch. Running a ranch means that you absolutely must be a jack of all trades, and I can guarantee Ben has stepped up so much to that role. He's the ultimate handyman around here.

Above all else, Ben is just a GOOD person. He is honest, kind, and has the most true sense of right and wrong I've ever seen. Ben makes me a better person.