My Story
I am so ready to be a mom!

I love children and have always longed to devote my life to raising a child. I live in the New Jersey suburbs, just outside of New York City. The town I live in is very diverse with a vibrant culture. My home is located in a small, gated community and it has a clubhouse and community pool. I live at the end of a cul de sac with woods across from me. There are a lot of children in my area and they love to see the wildlife (rabbits, squirrels and deer) that live in the area. I have two of the most gentle dogs, Dakota, a black lab and Lexi, a rescue that is part lab and part Australian Shepard. The children in the neighborhood love visiting with my dogs and throwing tennis balls for them or giving them treats! Can you envision your child joining the group? I hope so!

I have a very successful career in real estate and I truly enjoy it. I love that it's a very flexible career so I can be a completely present mom. I am my own boss so I make my own hours and a little one is always welcome to join me. I love that, in real estate, I meet people and help them find their dream home. I also love walking through a house and looking at all of the detail and craftsmanship. Moldings, hardwood floors, door styles, trim work.... little details that most people don't notice or pay attention to fascinate me. I enjoy helping people fix up homes and I do that too. Picking out bathroom tiles, light fixtures, paint colors, floor styles and colors, house siding styles and colors, are all things that I love to do. I'm good at it too, I know that!

​I am blessed to have a flexible schedule, an amazing support network, and to be financially secure. I am ready to love a child unconditionally and for them to be my family and my everything!

Family & Friends:
While we may all be grown up now, most of my family is still nearby. I am very fortunate that my mom lives next door to me and to have a lot of my family and friends close to me. They are my people. They are my support system as well as a constant source of laughter, love, joy, smiles, and adventure. My family and friends, no matter where they are, will always play a large part and be involved in mine and your child's life. My mom, Cathy, lives right next door to me. My father, John, lives two towns away from me. My brother Michael lives one town away from me. My brother George and his wife Lisa live two towns away from me with their children (my nephew and nieces), and my brother David and his wife Pam live out West with their children (my nephews). My aunt Mary Lou and my Uncle Sam both live in Florida, giving me a great reason to visit sunny Florida often. My aunt Mary Lou, who teaches ballet, is hoping that she will be able to take this little one to her school one day so they can see what she does in person. My Uncle Sam, loves music, and looks forward to teaching your child all about the old Rock-n-Roll groups. Everyone cannot wait to welcome a new member to our family!
My Home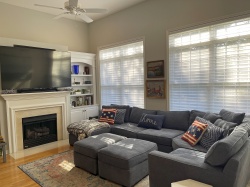 I live at the end of a cul de sac in a gated community and am close to parks, playgrounds, and the local zoo! To me, my home is my happy place and I find pleasure in the simple things like cooking, listening to music, walking my dogs, talking to my neighbors, or watching a show on tv. My home is the perfect place to create fun and amazing memories with a child and I know he or she will love it as much as I do.
I know in my heart I was meant to be a mom!

For as long as I can remember, I've always wanted to be a mother. I have always dreamed of it and I am looking forward to the day my dream finally comes true.

I am a kind, caring, loving person and I know I will be a terrific mother.

I am excited for my nephews and nieces to have another cousin they can spend time with. I'm looking forward to visits to the Zoo, walking my dogs with a baby in my neighborhood, having a child decorating gingerbread houses at Thanksgiving with their cousins and eating too many sweets. Traditions, celebrations, and everyday life events are things I am looking forward to.

Believe it or not, I am also looking forward to sleepless nights, wiping runny noses, kissing a skinned knee, endlessly busy schedules, getting to school on time, guiding a cranky teenager, filling out college applications, and helping a child to feel loved and secure when frightened, shy, or insecure. I'm looking forward to all of it!

I have a passion for travel and travel often. Now that traveling is safe again, I look forward to traveling after adopting so that your child can see the world with me and have new adventures. I also love that I don't have to go far to enjoy museums, zoos, shows, and summer activities that my community offers.

I am excited to introduce different types of life experiences to your child.

I have a successful career and work from home.

When I am not with family and friends, I like to volunteer and give back to the community. It makes me really happy. I get lost in the moment and don't think about anything else. I plan to volunteer in the community with the child I adopt too.