Our Story
We are John, Kate and Ellie. Thank you for taking the time to get to know us. We hope you will see the love we have for each other, our family, and our future child. We love doing things together as a family - everything from going to the park or pool to visiting the beach or zoo. We are excited to share our adventures with another child and will always love our children unconditionally.

We love spending time as a family and taking day trips to places like the aquarium, the zoo, New York City, or the beach. We enjoy playing in the snow and building snowmen in the winter, picking strawberries in the spring, and swimming in the summer. We also go to Ohio or Louisiana throughout the year to visit family and friends.
Our Home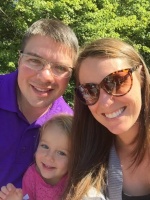 We live in a close knit community in New Jersey. We feel so fortunate because our neighborhood has many young families with children. We have formed great friendships with our neighbors and their children. On a nice day we can be found outside playing and spending time with the neighbors. We live within walking distance to a huge park filled with castles, swings, and sand. We also are close to multiple children's museums, the aquarium, and the zoo. Home is very important to us, it's the place we enjoy family dinners, dance parties, and spending time as one.
I grew up in Louisiana as the only boy in a family of 6 kids. It was busy growing up with so many siblings, but it taught me the value of family. We are a close knit group who would do anything for each other. I played competitive soccer through high school before going to the Air Force Academy for college. After college, I became an Air Force pilot and truly love the view from my office window. I am proud to serve, but I also love traveling the world. Every time I'm gone I miss my ladies back home! Meeting Kate set my life on an extraordinary path and we haven't looked back since. Ellie is my wildfire. Being a dad is my favorite role in life. I have always wanted to be a dad and there is nothing I enjoy more than time spent with her. I am so excited to grow our family.

What Kate Loves About Him

John is a very kindhearted and gentle soul. He is very intelligent and a great leader. John has a very impressive resume with the Air Force, but it's what happens at home that is most important to me. John loves and serves me like no one else. He is a wonderful husband and exceptional father. He is deeply invested in our little family. Seeing John as a dad makes my heart happy and sing with joy. He adores our daughter and spends a lot of time with her playing trains, digging in the backyard for worms, and tickling Ellie (yes, she loves this). He always makes life fun for Ellie and me. John is truly my best friend. He's someone I am glad I get to experience life's highs and lows with.
I grew up in Ohio with my parents, sister, and brother. We lived in the country and spent a lot of time outside building forts, jumping on the trampoline, and walking in the creek. We also lived across the street from a swim club, so summers were spent there. In the winter I swam on a competitive team and was lucky enough to travel around the country swimming in meets. I still love to swim, but nowadays my swimming consists of trying to convince Ellie that getting her eyes wet is not scary. I also graduated from college with a degree in elementary education. I taught for a few years, but once we had Ellie, John and I decided it would be best for me to stay at home. I also love to bake. Ellie is my big helper in the kitchen, insisting on pouring in all the ingredients, and of course taste testing. We make some mean chocolate chip cookies. They are a family favorite and are requested often. I also enjoying running and joined a group of women to get in a few miles most mornings. Above all I love to be a stay at home mom and be able to participate and support Ellie's growing interests. There is never a dull moment or quiet day in our house. I cannot wait to add another little one to the mix.

What John Loves About Her

Kate is my lighthouse. She is my foundation through life's exciting, joyful and even darkest times. I am thankful for every moment spent with her. She is a loving and caring wife who makes me a better person. And with all that said, she is an even better mom! She showers Ellie with unconditional love and support. Our children will not grow up with self-imposed limits or doubts on what or who they can be - in large part because of who Kate is. Kate took my breath away the day we met and has been doing it every day since.