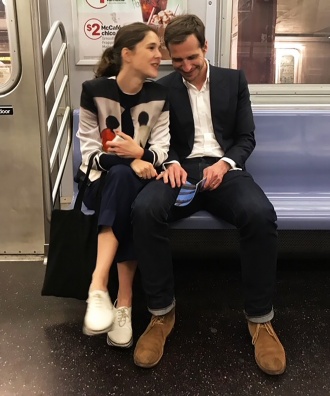 Our Story
We met in New York City 6 years ago through a mutual friend and it was love at third sight.

We were both french speakers and we had both left our native countries (Switzerland and France) for London where we had lived for 12 years without ever bumping into each other! It's only when we both separately decided to move to New York City that the wind of destiny blew us together.

We both love the energy of New York City and how multi cultural and international it is. Since we both work in an artistic field, we are amazed at all the opportunities there are over here.

Jacques handles business development for a concert hall and Marie is a fashion designer. We love working with musicians and being surrounded by creative people.

We share a love for the American way of life (having watched all these Hollywood movies when we were growing up) and we feel that everything is possible over here.

We also love exploring other states & cities by taking road trips and we are excited about starting our own family into this huge country.



Our Home
We live in a lovely apartment on the 4th floor overlooking a small park in downtown Manhattan in New York City. We can see all the trees and greenery from our window.

We live just opposite a children playground and we look forward to bringing our children there.

In the summer there is live music in the park, film screenings and lots of activities for families and dogs!

There is a real sense of community and we love spending warm summer nights on the stoop with our friends and watching people go by.

There are also some good schools in our neighborhood where our friends children go. We live in a great area for families.

We walk everywhere.

Here is the view from our window

A heart the size of that pumpkin!" Marie

LOVES

- Running (ran the NYC marathon two years ago)

- Soccer (loves watching the world cup to support the Swiss national team and follows Arsenal the rest of the year)

- Music mixtapes (to compile all the new music and tracks he has discovered in hip hop, R&B, indie, jazz and electronic)

- Trees & Nature (going back to the roots! important to escape to the countryside and go back to the Swiss mountains twice a year)

- Ice Cream (so many good places in our neighborhood!)


"Working freelance from home designing clothes will allow her to spend a lot of time with our children. She loves to bake and makes amazing banana bread"

Jacques

LOVES

- American crime stories on TV

-Teaching my nephews sports

- Jumping rope

-crosswords