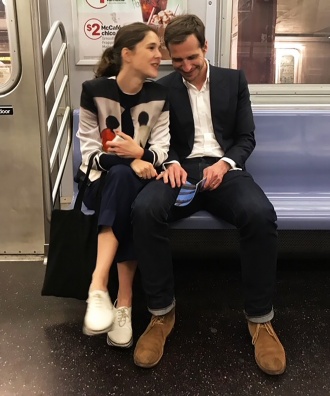 Our Story
We met in New York City 6 years ago, around Christmas, it was magical.

After being raised in France and Switzerland, via 10 years in London. We both love the energy of New York City and how multi cultural it is. Since we both work in an artistic field, there are big opportunities.

Jacques is in the music business and Marie is a fashion designer. We love working with musicians and being surrounded by creative people.

We share a love for the American way of life,having watched all these Hollywood movies when we were growing up.

We also love exploring other states & cities by taking road trips and we are excited about starting our own family into this huge country.



Our Home
We live in a lovely apartment overlooking a small park in New York City. We can see all the trees and greenery from all our windows.

Just opposite,there is a children playground and we look forward to bringing our children there.

There is a real sense of community and we love spending warm summer nights on the stoop with our friends and watching people go by.

There are also some good schools in our neighborhood where our friends children go. We live in a great area for families.

We walk everywhere.

Here is the view from our window

A heart the size of that pumpkin! and a lot of patience for learning new things" Marie

He LOVES

- Running (ran the NYC marathon)

- Soccer (World Cup, Swiss team and Arsenal)

- Music mixtapes ( all the new music and tracks: hip hop, R&B, indie, jazz and electronic)

- Trees & Nature on weekends, it's important when you live in a big city.

- Ice Cream (so many good places in our neighborhood!)


"Working freelance in fashion and costumes will allow her to spend a lot of time with our children. She loves to bake on weekends and makes a banana bread to die for"
Jacques

she LOVES

- American TV shows.

-Movies (except horror)

-Teaching nephews sports

- Jumping rope

-Disco/ Hip hop/ slow jams

-Watching people pass by on the neighbors' stoop.