Our Story
We met in college and have been together for over sixteen years. We were introduced to each other by mutual friends and have enjoyed many laughter-filled days together ever since. Zack proposed to David in 2008, the very day same-sex marriage became legal in California, and we were married a few months later at San Francisco's beautiful city hall. Sophia came into our lives through an open adoption in February of 2015 and has brought us tremendous joy. Zack is a high school assistant principal who enjoys helping students achieve their potential and David is an investigative analyst for the federal government who enjoys solving mysteries. We pride ourselves on the work we do to help others and to make the world a better place. We are fortunate that David has a flexible schedule and can care for our children during the week while Zack has summers and several weeks off throughout the year to allow us to travel and spend quality time together as a family.
Our Home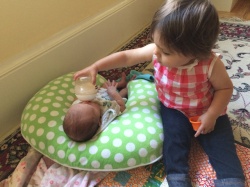 We settled in Oakland, California, because of the city's great diversity, wonderful cultural opportunities, and closeness to our awesome families. It is important for us to raise our children in an environment where it's possible to know many different types of people and to have a wide range of experiences. We spend our weekends visiting beautiful local parks, checking out science and art museums, and spending time with family and friends. We greatly enjoy having our friends and family over for dinner. One of our favorite holidays is Thanksgiving, where we spend all day cooking a feast for our immediate and extended families, and a few friends. We look forward to teaching our children how fun cooking can be during this great holiday. Our house has a lovely backyard filled with grass, fruit trees, and a vegetable garden, which makes a great place for family barbecues.
About About David (by Zack)
With David, I always have fun and enjoy the present. He is infinitely patient, protective, and caring, which makes him an excellent husband and a wonderful dad. David is very intelligent and loves to learn. He often talks about how he can't wait to help our children with their homework and school projects, especially in the fields of art and science. He already loves explaining how the world works to Sophia and delights in her every accomplishment, no matter how small. David enjoys art (including creating it), reading, watching movies, and visiting museums. He is also very health conscious, enjoys exercising and the outdoors, and will support and motivate our children as they grow and pursue whatever fascinates them.
About About Zack (by David)
Zack is one of the happiest and most adaptable people I've ever met. Zack has made me laugh every day since we met, and he is one of the reasons Sophia is such a happy child. Zack is a gifted cook, a talented athlete, a brilliant educator, and a phenomenal dad. He loves reading to Sophia, and does so often. He frequently takes our daughter swimming at the nearby public pool, and runs with her at one of our beautiful local redwood forests. When he's not making Sophia her favorite home-cooked meals, Zack spends his time reading books, training for half-marathons, and trying to beat his husband at chess. Zack is also fluent in Spanish, and we're looking forward to raising our children in a bilingual household filled with fun family vacations to Spanish-speaking countries.