Our Story
We love our family! When we met back in the year 2000, we couldn't have dreamed of a better life than the one the Lord has been so gracious to give us!

When we were just the ages of 16 and 19, we both talked about how we would love for adoption to be in our future together. We were married in the year 2002 and Jill looked into adoption, but for our meager wages and still being in college, we didn't move forward right away. Fast forward three years and the Lord decided it would be best to grow our family biologically at first.

In the years of 2005, 2008, and 2013, we were given our 3 most precious earthly gifts! They stretch us, grow us, and teach us in their own unique ways, and we love them an indescribable amount. This May we celebrated our 15 year anniversary, and we are thrilled to finally get to pursue our dream of adopting a baby. We know that the Lord planted this desire in each of our hearts, and that for some reason He delayed us 15 years from beginning the process. We believe His timing is perfect! If He hadn't delayed us, you wouldn't be reading this right now and considering us for this monumental task!

Our life is pretty regular. We are not super fancy or important people if you put us in a line up. We didn't come from families like that either. Jonathan is an educator for schools in a particular county in West TN. He is also the pastor of our sweet church and has been for 9 years. Jill used to teach parenting sessions and counseled troubled families, adoptive families, and troubled teens after she finished her Master's degree in Counseling 10 years ago. Now she's at home full-time and homeschools all of our kids! She loves being with them and teaching them (and learning a lot with them too!). We love God, love being together, going to the beach and other fun places, reading books, jumping on the trampoline,riding bikes around the neighborhood, and being with our friends, family, and our church familly. Our life is simple, but it is full of fun, joy, and peace!

If you asked us what our wishes for each of our children were, it would be this. We are daily trying to build a legacy for them. One where the Lord is honored above all and where that love for God allows us to love others well. We desire them to know the peace and joy that having a relationship with Christ brings, in ways that all other earthly things cannot satisfy. We both as their parents are trying to model this and teach this daily to our children...and we will seek to do the same for this little one that is entrusted to us. We desire to build a legacy of hard work, integrity, virtue, compassion, and gratefulness. We are so happy to walk alongside our children in this huge task of growing them into wonderful, responsible, and kind adults that will have firm foundations upon which to build their own families one day!


THESE ARE A FEW OF OUR FAVORITE THINGS:

Jonathan:
Loves reading, working out at the gym, swimming, bike riding, listening to Blues, Motown, 80's, and Christian Hip Hop music, listening to audio books, camping, fishing, hiking, traveling, watching Akira Kurosawa movies, coffee, cheeseburgers, Chinese food, and eating at BB Kings on Beale St in Memphis!

Jill:
Loves making beautiful things and decorating spaces, crafting, blending her own teas, learning about nutrition and how to keep our family healthy, taking care of others, going on trips, reading with the kids, being with her friends, drinking coffee, simplicity, visiting antique shops and yardsaling, eating popcorn with M&Ms or Raisinets mixed in when we watch a movie.

OUR FAVORITE DATE NIGHT:
We used to love to go out to eat and to see movies or to paint pottery or other various things. We still like these thing, but honestly, ordering Shrimp Pad
Thai for takeout with cream cheese wontons and watching Netflix in our PJs is our most favorite relaxing date when the kids are away for this current season of parenthood!

TRAVEL-WE LOVE EXPLORING NEW PLACES TOGETHER!

We really enjoy traveling as a family. We mostly do road trips, and our children have built up endurance for long car rides since they experience them early-on in life! A fun fact about our family: We took a vacation to the beach when Salem was just 7weeks old! She was the tinest little vacationer we'd ever had. She slept in her seat a lot and Jill carried her in a wrap mostly. We take an 8-10 day vacation to the beach every summer. We look forward to it all year!:) During the rest of the year, we do short get-aways to see museums, landmarks, themeparks, and the like...just whatever we can find to get into! For day trips, it's common for us to take the kids to the Memphis Zoo, the Discovery Park of America, the Pumpkin Patch in the fall, playing at parks, doing nature hikes, or other things that we have opportunities to do and think might be fun to experience together. Three future travel hopes we have for the next 5-7 years are: 1. Fly to a fun destination together to let the children experience riding in an airplane, 2. Visit Universal Studios when the baby gets a little older, 3. Take the children on a cruise with us. Here are some pictures of fun things we've done and seen over the past few years. We can't wait to have another child to take along on all of our family adventures. What a joy it will be to witness him/her experience so many new and exciting places and things! We hope to give all four of our children wonderful life experiences that add up to treasured memories of their childhood. No matter how fancy or simple our outings are, we want the kids to know we plan them all simply because we adore spending time with them!

EDUCATION-WE LOVE LEARNING AND TEACHING OUR CHILDREN TO LOVE IT TOO!

Education is very important to our family. Jill has a Master's degree and Jonathan is about 6 hrs away from finishing his Master's degree as well. When Anna-Asher was 4, we decided that it would be best to homeschool her. We loved it so much, we are still homeschooling 7 years later. Anna-Asher, Deacon, and Salem are all EXCELLING academically--even beyond their grade level in some areas. We are very involved in a homeschool community where our children get weekly interaction with friends and a classroom environment. Our children are enrolled in gymnastics 2hrs per week as well. We love the freedom to customize the best education plan for each child and the ability to give them boundless opportunities to explore things that interest them. We also get excited when we can learn about something and then travel to let the kids see and experience the thing we learned about! It really helps them to be broadly exposed to a host of interesting things. Most of all, we love that they spend their days with their mama who loves them and who is ultimately concerned for their good, growth, and success. Apart from regular subjects, we also think it is important for children to learn to develop obedience to authority, good work ethic, and virtue. We want them to have love and honor for God and others in our home and outside of our home. Adding a baby into our homeschool day will be alot like it was when we added Salem into our day more than 4 years ago! She got to listen to us sing geography songs, was read to from birth,sat in on most of our lessons in her Bumbo seat or bouncy seat, and was on the go with us in her carseat or in a sling attached to Jill. This obviously benefited her, because she was able to begin reading at 3years old and could point to states on a U.S. map before the age of 2! We can't wait to add our sweet little baby into all of our routines. He/she will be throughly entertained as a baby, and as he/she grows up, he/she will have so many wonderful opportunities to learn new things, explore various interests, expand his/her natural abitilities and talents, and be whatever God has created him/her to be! We will be his/her firm support and will seek to offer wise guidance in whatever the future holds!

ABOUT JILL'S FAMILY:

We live a lot of life with Jill's parents and her sister's family because we all live near each other. Jill's parents have been married for 36 years and they are such a blessing to us and all of our children. Pappy and Mimi are so excited to add their 6th grandchild. They are such active and fun grandparents and all of the kids adore them. Whitney and Zach, Jill's sister and brother-in-law, have been married for 9 years and have 2 girls named Calli Anna and Charis. These two gals keep us cracking up all of the time with their shenanigans! Our children love spending time with their cousins. We all go to church together and are part of the same homeschool group so we see each other several times a week. Calli Anna donated all of her birthday money to our adoption fund so she could have "another cousin she could love forever." So sweet! Our new little baby will have so many people to love it! Jill has many aunts and uncles, cousins, and 2 grandmothers that live nearby. We all get together for holidays and birthdays and are very close. Our Thanksgiving is a huge family gathering at Jill's aunt and uncle's house. Thanksgiving is so sweet because not only is it our family, but it's extended family from KY, SC, NC and others plus tons of friends that have been 'grafted in' to our family. It is one of our favorite holidays!

ABOUT JONATHAN'S FAMILY:

Jonathan is from NC and his family still lives there. His mom and dad are both remarried and we get to see them and their spouses about one or two times a year. We always have plenty of people to see and find lots of fun things to do when we're there. Our kids get a lot of treats too when we see Nana and Papa and Bop and Gigi. Papa Jimmie and Ms. Brenda are honorary grandparents to our children too, and they always take us to our favorite breakfast place when we're in town. We took the kids hiking in Asheville this past May during our last visit.

OUR CHURCH FAMILY AND WHAT WE BELIEVE:

We believe that we exist to glorify God by enjoying Him forever. This is the foundation for our life, our family, and everything that we do. We believe in the biblical gospel--that God gave His only Son to provide us with righteousness and to die for our sins. Through faith and repentance we are counted as God's children in Jesus Christ. He adopted both of us into His family long ago, and we are secure in His love and in His promise. We labor to teach our children this gospel as the most important thing in all of life.
We are part of a precious, very strong, and healthy church body that Jonathan has been pastoring since 2008. This community of believers is as close to us as a biological family. We live life, serve one another, raise our children, and love Christ all alongside one another. Our church body has been a huge support to us as we pursue this adoption. They are praying for us, our baby, and our baby's mother on an ongoing basis.

OUR PROMISE TO YOU IF YOU SHOULD CHOOSE US:

If you choose us to parent your child through adoption, you will be beginning a thread of love that we promise to continue weaving throughout this child's entire life. We feel the great weight of the trust you would be putting in us and we would never take that responsibility lightly. We also take seriously the responsibility we bear before God to teach this child His ways. We promise to give him/her the same love that we have given the children that have come from our own bodies. We promise to provide a stable, safe, and loving home. We promise to give him/her every opportunity that the Lord allows to grow physically, spiritually, mentally, and emotionally. Your selfless act of parental love that will put your child's needs ahead of your own will never be taken for granted. We also understand that there could be a father, siblings, grandparents, aunts, and/or uncles that will also be making this sacrifice of love for this child in order to support you in this adoption plan. We are overcome with emotion at the courage and strength that will be displayed on your part and on the part of those that love you and this baby in making this choice. This love, bravery, and strength will be the legacy that we will tell this child that he or she came from. We know that you will never forget this child or ever stop loving him or her and we will be sure to remind him or her of this often. What a wonderful gift that this child will be born into this world being loved by God and by two whole earthly families! We are willing to do an open adoption if that is what you choose. It would make our hearts glad to share updates and pictures about this little one that already has our hearts, so that you can celebrate his/her life and milestones along with us. Whatever your decision you make regarding this little one, we pray the Lord will give you peace in the gospel. We are so honored to be considered by you for such a monumental task.
Our Home
We bought our home back in 2015. We were bursting at the seams in our previous little 1200sq ft place. We were so excited to find a 4 BR, 3BA, 2400sq ft place in a great neighborhood! We love our home and love having space to spread out, play, and entertain our family and friends. We have a great backyard and have enjoyed so much life here! Jill loves to decorate and has spent many hours making our home beautiful and has had so much fun along the way!
Jonathan's love for God was what made me first love him. He passionately pursues Christ as a natural outflow of his personality, loves God's word and seeks to obey it, and teaches/preaches it clearly to others so that they can obey and find joy in Christ too. Because he loves Christ, he is able to love others well. Especially us! Jonathan is a wonderful husband and father. I adore him and, even after 15 years, cannot BELIEVE that I get the privilege of being his wife! He always treats me with kindness and respect, and is quick to put the needs of the children and myself above his own. He is bold, brave, dependable, fiercely loyal, and protective of us. He makes us feel so loved, and we all know that we can count on him. He is a hard worker and a good provider for our family. He has balanced 2 jobs for 9 years without ever making us feel like last place. He is naturally introverted and loves to read and have quiet time, but he has a really goofy side with those of us who know him well. He is always trying to make people laugh and loves to have fun! Jonathan grew up with parents that were divorced before he turned 1 year old. This was difficult for him growing up, but the Lord grew so much good out of his story. His childhood experience shaped him as a father and caused him to be one of the most attentive and present dads I know for our children. He plays with them, talks with them, reads to them, and is consistently active with them in countless things. He is a very hands-on dad and has been with each one of them since birth! Each of our kids have a special relationship with him, and I am excited to see him grow a bond with this new little one. This baby is going to be so blessed to have Jonathan as his/her father.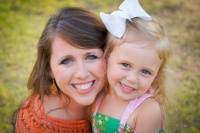 Jill is an ideal woman. I know that I am supposed to say that because I am her husband, but the sentiment remains regardless of that fact. From the moment that I first met her when she was 16, she exhibited the personality traits that mattered the most to me. She was and is fiercely loyal, sacrificially caring, and joyfully kind. I have never met another person that so intentionally places the interests of others above her own, or receives so much joy in promoting another person's well-being as she does. All of this is what makes her my ideal wife. All of this is what makes her an ideal mother. The reason that I can truly praise her for these qualities is because they extend to everyone around her, and still they are given to me and our children in the home with an endless supply. In our home, at our church, and with our extended friendships and families, Jill is a model of joyful affection and love. Together we have always desired to adopt, but especially for my wife, it truly is because it is a genuine extension of her natural personality. Any child that the Lord blesses to come into our home will be loved by my wife without restraint!