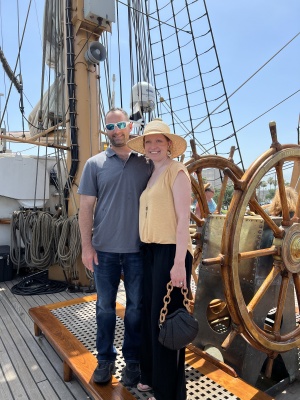 Our Story
David and Morgan met in January, 2011 when he was checking out more than his groceries in the checkout lane. It worked out well :) We have been married since 2013. We are looking forward to expanding our family through adoption! Infertility has been a road block for us in our journey to be come parents, and feel called to adopt.

About David:
- Fireman
- Runs fishing charters on the side
- Loves to fish
- Volunteers
- Enjoys cooking, being outside, and projects
- Loves dogs
- Love language is acts of service
- Only child
- His parents live about 2 hours ago
- Lots of aunts, uncles and cousins nearby

About Morgan:
- Nurse practitioner
- Teaches nursing
- In school for a doctorate of nursing practice at John's Hopkins University
- Enjoys reading, yoga, paddle boarding and the beach
- Volunteers
- Love language is quality time
- 3 siblings: Younger brother lives in Michigan with his wife, 2 sons and 1 daughter, 1 younger sister lives in Colorado with her husband and her "baby" sister lives in Michigan with her husband and 2 sons
- Her parents live in Michigan

About Us:
- Laidback, but also planners
- We have 2 dogs: a rescue mutt and a rescue Australian Shepard
- Enjoy hiking, traveling and good food
- Amateur gardeners
- Most nights are low key nights in, but we do spend time with friends and like to be social
- Believe in supporting our local community and are involved
- Like to work on projects together
- We have weekly virtual trivia with Morgan's family
- Continuously working to get our life right with Jesus

Our Home
We live in an older neighborhood 2 blocks from the beach and 3 blocks from a park. We have a 3 bedroom, 2 bath house. Our home is older, so we had the opportunity to renovate, which means we've made it ours! We are close to town, live in a good walking neighborhood and have wonderful neighbors!! We both enjoy gardening, so we add a little to the landscaping every year. We have plenty of room in our both our hearts and our home for a little one.
David will be the most AMAZING dad. I don't even know where to begin. David likes to take care of the people he loves. If someone needs something, he will bend over backwards to make it happen. Some days, David will be so busy, but know I need help with something and somehow get it all done. He likes to share what he knows. For example, fishing is his favorite past-time and when he goes fishing with kids (or adults) who are learning, he will patiently explain, demonstrate and continue to cheer them on until they are comfortable. David is also a good listener and will check in to be sure everything is ok. His children will know love not just by his words, but also his actions.
Morgan will make a great mom. She loves being with our nieces and nephews who are only a few years old. Morgan is looking forward to being able to one day read bedtime stories and take care of her own kid. She loved stories growing up. She also would be a great influencer and role model for our kids about the world and seeing them just soak up knowledge, sharing in their accomplishments, supporting them and building their self esteem. Learning new things with our child and watching them grow is exciting to her. She has dedicated her entire almost 9 years of marriage with me to becoming a mom. Morgan is looking forward to being a mother.