Our Story
We first met each other in 2007 with a little help from match.com and we both knew from the outset that we found someone special. By 2009 we were tying the knot with the support of our closest friends and loved ones. We spend a lot of time with family, especially with our Niece and Nephew, and family is very important part of who we are. When it's just the two of us we often can be found playing with and walking our two loving hound dogs. We both have a huge love for dogs and plan to never have a home without some furry four legged family members walking around. We also enjoy playing games together, cooking new and creative meals, watching movies and just grilling/relaxing on the deck when the weather allows us to.
Our Home
We live in a brand new community just outside of Purcellville, VA with a very "small town" feel. The environment here is very safe and the people are warm and welcoming. There are an abundance of children of all ages running around and playing outside all of the time. There is a playground a few hundred yards from our house and child friendly community events are run almost monthly. We also live within walking distance of the town elementary school.

The house itself is over 3,000 square feet with 4 bedrooms and 3.5 baths. We have a fenced in backyard with roughly 2,500 square feet of space to run around and play in.
Jen is 36 years old and is currently working at a daycare center and has been there for the past 3 years. She works as the lead teacher in the infant room and has over 10 years specifically working with infants. They are her passion and she loves working with them on a daily basis. But her dream job is to become a Mother, and when the time comes she plans to be a stay at home mom so she can give her child all the love and attention she possibly can.

Outside of work Jen enjoys relaxing in the backyard on the deck with her amazing husband and two wonderful dogs. Jen enjoys time with her family a lot and will often visit them several times a month, bringing her fur babies with her when she can. Family is of the utmost importance to Jen, something she hopes to instill in her future Son or Daughter.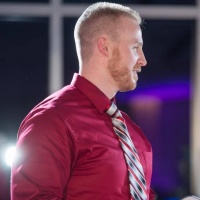 Steven is a 33 year old Software Engineer who has lived in the greater DC area since he was 7 years old. He's often described as a gentle giant with an infectious laugh that can be heard well before you actually see him. Outside of work Steven spends a lot of time with his Wife and wrestling with their two dogs. Recreationally he's an aspiring powerlifter and a big tech geek who loves playing with the latest technologies.

Being a Father is something Steven always knew he was destined for. To be the stable foundation his child can stand upon as they ascend into adulthood. The strong pillar they can lean on when they've just had enough. The sturdy roof that gives them a feeling of comfort and safety. It would be his greatest fulfillment in life.