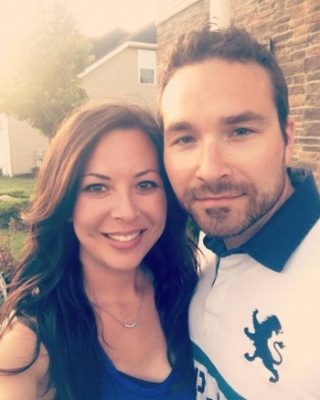 Our Story
Luen and Chase met online before online dating was a thing. Chase had just graduated high school and she was a year older. We were from different parts of the country, but we became very close. Eventually, Chase flew up to NY to meet Luen and her family. We hit it off immediately. A year later, in 2006, Luen moved down to TX while Chase finished school. After Chase graduated from college, we moved back to NY to be near her family and start a family of our own. Though we both wanted kids, we decided to wait and take time to enjoy being married. We were able to grow as a couple, travel, and eventually build a house in a quiet neighborhood outside of the city.

We welcomed our daughter, Harper, shortly before our 7 year wedding anniversary. We also share our home with the Roxy our 13 year old Chihuahua, and Luen has a horse (George) that she boards at a nearby farm.

Family is everything. The best times are spent together as a family whether we're out exploring or staying home.
Our Home
We live about 25 minutes outside of the City of Rochester in the Finger Lakes Region. We are close to shopping and amenities while still maintaining some space and quiet outside of the city. There are many lakes and parks nearby and plenty to do regardless of the weather!

We built and moved into our forever home in August 2015, when Harper was just a few weeks old. Our neighborhood is very friendly and close knit. There are a lot of kids that live nearby and our neighbors are some of our very closest friends.

Our house sits in a friendly neighborhood with a swing set in the backyard. When the weather allows, we spend a lot of time outdoors, cooking out with friends, going for walks, and riding bikes.
(From Luen)

Chase is incredibly hardworking and very kind. He loves first and always looks for the best in every one and every situation. He's a great father to our daughter. Chase is a true "on the ground" kind of dad, always ready to play dolls, race cars, push a swing, or kick a soccer ball.
(From Chase)

Luen is my partner in all things. She is the metronome that keeps our family in sync. She is my best friend and the keeper of my heart. To our daughter, she is a loving, nurturing mother. Her compassionate heart is evident in all aspects of her life. Always there to lend a hand, always thinking of others, always helping her family and friends when needed, she is a wonderful role model for Harper. Early on in our relationship, we discussed our future plans for growing our family and adoption has always been a part of them. I know she will make a wonderful adoptive mother, because she is already a wonderful mother to Harper.