Our Story
We met in 2006, when Tiff interned for Scott's employer. We become instant friends and began dating soon after. We were engaged a year later and married in 2008. We have a beautiful life together, and at the risk of sounding cheesy, our relationship gets better each year.

In the past 11 years, we have lived through indescribable joy, and also our share of disappointments and sadness, all the while learning more about each other and life.

There are no games in our relationship. We each give 100% to the marriage. Both sets of our parents have been married for nearly 40 years. We live by their examples, and will do our best to promote healthy and loving relationships for our kids.
Our Home
We live in a 4 bedroom home, on the cul de sac of a quiet street. Your baby will have his or her own room and bathroom. We have a playroom, a game room, and plenty of space for toys and playtime. We also have a large backyard, complete with a playset and bounce house. Scott is looking forward to building a treehouse this summer. We also have a private neighborhood pool and recreation club for the 30 families in our neighborhood.

We have one family pet, a cat named Gus. He is the most relaxed cat ever! He loves (okay tolerates) playing dress up with Lainey, and even goes for walks in her baby doll stroller.

Our neighborhood is very kid-oriented. We have a children's parade through the streets each summer, and we host movie nights floating in the pool, under the stars. We have the type of neighborhood where kids feel free to bounce from yard to yard, and parents take turns hosting play dates.

We live within 5 miles of all of our district schools, which are ranked #1 in our county and in the top 10% of the state. We are in the suburbs of a large city, which gives us the benefit of living in a quaint, walkable town, with museums, amusement parks and the zoo just a short car ride away.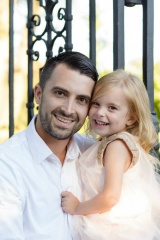 Scott is 35 and describes himself as outgoing, friendly and honest. He works as a nuclear supervisor (sounds scarier than it really is). In his downtime, he enjoys playing soccer, running races, and kayaking.

Scott's parents live about 10 minutes from us, and we are very close. He also has a HUGE extended family. Your baby would grow up with dozens of cousins close in age.

How Tiffany Feels About Scott:

Scott is the funniest person I know. He has taught me not to take life so seriously. At the same time, he is incredibly ambitious and hardworking.

Scott is an unbelievable dad. He has patience of steel and is completely hands on when it comes to parenting. He has no problem putting in a full day at work and coming home to build legos or have a tea party.

From an early age, our daughter has enjoyed lots of one on one time with her dad. Your baby can expect the same. He has a child seat attached to his bike, a baby jogging stroller, and a two seat kayak ready to spend lots of quality time together.

Your baby would have an incredibly devoted and attentive father.
Tiffany is 32 and describes herself as honest, caring and loyal. She works as an attorney, but she is lucky to have a flexible career that has allowed her to put family first. She works primarily with children, and is able to bring Lainey and the baby to the office and court when necessary.

Tiffany's parents live 15 minutes away on a farm that has been in the family for a century. She has an older brother and sister who live 5 minutes away and are also going through the adoption process.

How Scott Feels About Tiffany:

Tiffany is a wonderful wife and an even better mom. She is the smartest person I know and she takes a lot of pride in teaching our daughter new things. I love that she is determined and strong, but soft and sweet at the same time.

Tiffany works with foster children and their families. She has taught me the importance of maintaining a relationship with our child's family. You will not meet a potential adoptive parent who cares more about you and your family than Tiffany.

Her bond with Lainey is amazing and I can't wait to watch her as a mother again.