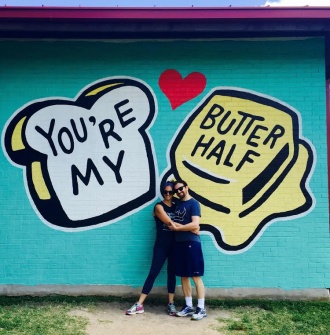 Our Story
We met in Dallas four years ago when Sharon was in graduate school for her PhD and after Doron moved back to Texas from Toronto, Canada.

We had so many things in common from the start--like love of travel, food, movies, and comedy shows--and were immediately smitten with each other. It's been three years of marriage now, and we recently bought our first home together in Austin.

We love spending time together, even if it's running errands or reading quietly in the same room. We've been taught by our own parents the importance of getting a good education, being open-minded, and always treating others with respect. These are core values that we hope to pass on to our own child. We have so much love in our hearts and want to be able to share it on this next new adventure in our lives.
Our Home
Our historic house is in a centrally-located neighborhood, Hyde Park, filled with beautiful tree-lined streets, a swimming pool, and a local park. We're only a few blocks away from restaurants, a community theater, a museum and the best coffeehouse in town, Quack's! There are many families raising their children here because the schools are some of the best in the city. We can't wait to share our bungalow home, with its big backyard (including chickens!), with our child.
Sharon is the love of my life. She is extremely warm and kind-hearted, but also tough and unafraid of any challenge. She has an adventurous side, having moved to Australia for a year and traveled through Europe and Southeast Asia. She also loves to be at home, cooking unforgettable meals and hosting wonderful get-togethers in our new house. She is as comfortable discussing art during a museum visit as she is going to a baseball game or trying to finish a difficult crossword puzzle. I've seen her take care of friends' children and recognize all those qualities that will make her a great mom.
Doron is one of the smartest and kindest people I've ever met and I'm so lucky to call him my husband. He's compassionate and generous, and he loves and supports his family and friends unconditionally. He is crazy about sports and especially enjoys watching soccer games with his dad and brother. I admire how committed he is to keeping up with world events and how much he contributes to making our home warm and inviting. I can't wait to see him become a father because I know that he would be the most incredible dad to a very lucky little boy or girl.