Our Story
We met 13 years ago while living in New York City where I (Stacie) was a Broadway performer and I (Brian) was a Lawyer. We quickly knew we had found our person and would be together forever. After we got married in 2010, we moved to Indiana and then to Austin, Texas before settling down in beautiful Gainesville, Florida. We have no children, but we are a little obsessed with our two rescue pups, Coco and Franklin (more on them later)! Our dream is to fill our home with a couple of kiddos and a whole lot of laughter.

We absolutely love meeting new people and traveling anywhere, from across the street to around the world. We can't wait to take our third amigo with us to experience exciting new lands when they're ready. We always have food cooking in the kitchen and are lovers of anything to do with books, art, music and animals. A perfect day would be going to the zoo or a museum, having lunch outside on a nice day, and afterwards, curling up on the couch for a good movie and ice cream. How wonderful!

We hope you enjoy taking a glimpse into our life.
Our Home
Our home is located in sunny Florida. It is our landing spot, where we find peace after a long day. It's where our family gathers, we make music, we celebrate, we play jokes, we bake cookies, we snuggle, we sip our coffee, we cook together, and we relax.

We take great pride in our home and have worked hard to make it beautiful, safe, and happy.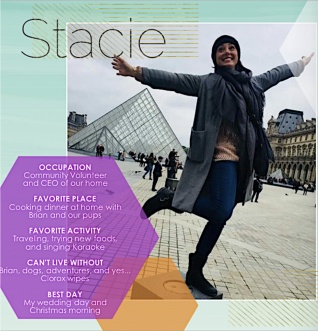 Life started for me in North Carolina where I spent most of my time singing and excelling in the arts. After leaving home, I went on to study music in college and then moved to New York City to continue my education.

In NYC, I worked as a professional actor, singer, and dancer in musicals, plays, and shows touring the world. During that time is where I learned most about myself and what I value. I met my husband, my best friends, faced my fears, and experienced a world that is full of different kinds of people walking many different paths. That is where I learned that love, kindness, and acceptance is what's most important, and I continue to live by those values today.

Once Brian and I got married, I decided to make a change from performing, to work for charities that help our military, and abused and neglected children. This is when I knew I wanted a big family and to continue serving people that needed help. Since moving to Florida, I still volunteer and also work to repurpose buildings in our city for those who need homes.

Brian and our dogs think I'm really funny and a darn good cook. For fun, I like to binge watch Netflix, sing at the top of my lungs, dance, host dinners for my friends and family, and act like a goofball. If I won the lottery, I would open an animal rescue sanctuary and spend the rest on traveling around the world. I feel that I am a nurturing and strong woman who knows who she is and what she believes in. I think that if we live by the golden rule, the rest will usually fall into place.
I was born in Houston but moved to a suburb of New Orleans at an early age. As a kid, I liked playing sports, hanging out with my brothers, and trying to do well in school.

I moved to Boston to go to college and then to New York City to attend law school. After law school, I started my career as an attorney at a law firm in
New York.

The best thing about New York City, is definitely that I met the love of my life while living there! I think I knew within
the first hour of meeting Stacie that she was the one for me and that I wanted a future with her.

I now work as an attorney here in Florida. I love eating Stacie's cooking (probably a little too much), even though I'm not much of a cook myself. I love hanging out with Stacie
and the dogs at home, reading books, seeing friends, and spending time working on Brazilian Ju Jitsu.

I know the missing piece in our life is a child – we have
so much love to give and can't wait to welcome him or her
into our life.