Our Story
We met at a mutual friend's wedding in London, England. We were drawn to each other immediately, had the best conversations, and really enjoyed each other's company. When we met, Kara lived in New York and Alex lived in London. We began a friendship over text and phone calls which turned in to long distance love. Now, we are happily married and are living in New York; we can absolutely vouch for the fact that the effort that goes into a long distance relationship can turn in to happily ever after!

Our Home
We live in New York City in Queens. Our neighborhood is very family friendly. It's great for children, so many parks, dance schools, kid gyms and musuems. You name it, and


Our apartment is very comfortable. With Kara working as a designer and decorator for tv and film, our apartment reflects us and our style. A lot of our decor was found when traveling, including our favorite piece, an oil painting from Hong Kong.

The best part of our place is the roof deck. It's so nice to have a little oasis amidst the hustle and bustle of New York City. First and foremost- it's safe for kids! That is definitely a priority.

Our family has a summer house in Connecticut- just an hours drive from our apartment and is a home away from home. It's honestly the best place I can imagine for a child during the summer. Our friends, who now have children, have a house there as well. We can't wait to vacation with them as a family of three! It really is a great place for families for the summer. There's so much to do! Swimming, tennis, BBQ's, and the beach! The 4th of July is always filled with fireworks, friends and fun!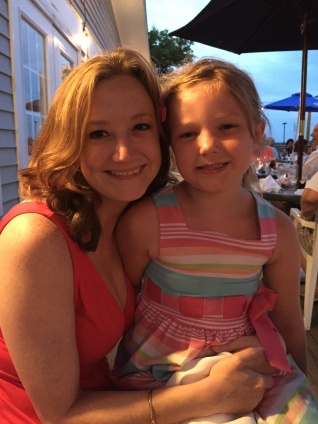 In addition to my mom and brothers, my aunts and cousins live close to me which I'm grateful for. Being close allows us to enjoy each other's company and spend quality time together. My entire family is excited to welcome a new member into the family.

My cousin Alison adopted her daughter, now 12, and has been so helpful guiding me through the adoption process. Our holidays are fun, mainly because of my nieces Sophie and Audrey, and my nephew Aidan. They make me smile. This past Thanksgiving we made slime, built couch, forts and jumped on the trampoline. When Audrey was five she asked me, "Kara, are you a kid or an adult." I answered her, "I'm an adult, why?!" Audrey responded, "Cuz you play like a kid!" To this day, that's the best compliment I ever received. We look forward to adding another child to the fun!

My friends are beautiful people who live all over the world! My friends are everywhere, literally, from Ireland to England, to South Africa, and Australia. During college and graduate school I lived in NYC, Ireland, and England and I met a lot of people along the way. My friends are amazing individuals; very diverse, some incredibly artistic, some are business driven, some are teachers. No matter where I will go in the world, I have my buddies everywhere.

I love traveling, which you might have guessed from all the places my friends live. If I can travel anywhere, go hiking, have a good meal, and be surrounded with people I love, then all my boxes are checked for an incredible and memorable day. In the winter of 2019, my mom and I took a mother/daughter holiday to Hong Kong, Cambodia, and Thailand. If you're interested, please ask me about the story of my mom riding an elephant. It's priceless! In addition to traveling the world, since I was a kid, and still to this day, I'm an avid reader. I love reading books, especially historical fiction and mysteries. I also enjoy drawing and painting and can't wait to fingerprint with a little one.

As a production designer for film and tv, I create worlds for other people to see. It's all make believe. Sometimes I pinch myself for enjoying my career. I've been working my way up through the industry since I was in college and feel very fortunate to have used everything I learned in this new role I have.

My friends, family, dog, and Alex are the best representation of who I am. They support me fully in becoming a mother and can't wait to welcome your child into our family. My family has my back, I have theirs, and I'll have yours and your child's too if given the chance.

I am from London, England. I'm a classically trained chef and am passionate about good food! I spend a lot of time volunteering with the homeless, something I care deeply about. Running busy kitchens and volunteering with vulnerable people have helped me deal with stressful situations and I do so calmly and with a smile. I love traveling and trying new things but when I have downtime, I enjoy reading and listening to live music.

I truly admire my parents and the way they love and live for their family. My dad is retired from a successful marketing career. He lives in London and is very excited about the prospect of becoming a grandfather.

My mother was very sick for years with advanced stage Parkinson's. She was diagnosed at 60 and sadly passed away before her 65th birthday. I was her main care giver for years before she needed to go to a full-time care facility. After she was admitted, I'd visit her four or five times a week. We'd go to the theater, to museums and sports games, or out for some delicious meals. She made me the man I am today and I am so grateful to have learned love and compassion from her. Prior to her illness and before retiring, my mom was an executive at a marketing company. Her love of food and cooking lead to me becoming a chef. She loved to travel and was a smart and confident woman. I miss her every day.

My aunt Carol and my cousin Catherine are super fun and easy going. Both are healthcare professionals; Carol is a nurse and Catherine is a nutritionist. Catherine has two teenage girls who are also loving and sassy. They all look forward to welcoming a new child into the family.


My sister Rachel and her boyfriend Iain live in London. Rachel enjoys going to the theater, especially musicals. She is going to be an excellent auntie and will give her future niece or nephew all her love and heaps full of attention.