Our Story
We met at a mutual friend's wedding in Mexico. After Joel caught Sara's eye in a pre-wedding photobook, the bride-to-be rearranged the seating chart for us to sit together. So excited to meet this handsome man, Sara planned the perfect outfit for the big introduction. The morning of the rehearsal, however, Sara went down to grab some breakfast, un-showered, no make-up, and bumped into Joel!

We immediately hit it off and quickly discovered we both grew up in similar environments and shared the same values. We laugh that it took two Iowa kids who grew up only three hours apart, 20 years and a trip to Mexico to meet!

Our relationship is built on the foundation of our shared core values of trust, deep mutual respect and sacrificial love.

Our hearts grew again when Isaac joined our family 5 years ago through adoption. We have an open relationship with his birth mother and father and have an open line of communication with them. Even though we live in different parts of the country, we've been able to visit a couple of times since Isaac was born. Isaac will be a wonderful big brother! He is a curious, kind, adventurous little boy and is so excited by the possibility of having a baby brother or sister to play with.
Our Home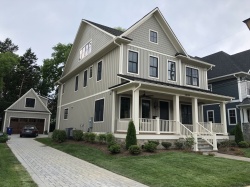 We love our home. When we first moved we thought we might miss the hustle and bustle of the city, but quickly found that we love the charm of living in Virginia! Our neighborhood is full of families, great parks, fun backyard parties and BBQs, swimming pools for summer fun and great schools. We love hosting people in our home, for a glass of wine, a warm meal or to spend the night.

Isaac and his best dog pal Scruffy love running around the backyard during the warm months and as a family we love to cozy up in our living room with a fire during the winter months. We are so hopeful for another baby that would complete our home.

Born and raised in Iowa, Sara grew up with a strong sense of self and belief in service to family and country. This passion has fueled her career in public service and stays with her today as the CEO of her company. A compassionate listener, Sara will always go the extra mile to help those she cares for.

If you were to ask her friends, they would describe Sara as kind, values driven and hardworking. She leads with trust and empathy and along with Joel has worked hard to create a home full of love, laughter, curiosity and opportunity; nurturing those around her to grow, explore and flourish.
Like Sara, Joel was also born and raised in Iowa. He is creative, passionate and hardworking. Joel loves to spend time outdoors with Isaac. From the golf course to the many hiking trails around our house, Joel is always taking Isaac on fun adventures.

From a young age, Joel had an adventurous spirit, which sent him on many worldwide adventures. As a wartime photographer- Joel had the opportunity to interact with many different people and cultures, a trait he hopes to instill in his children.