Our Story
Kory messaged Esther on Twitter after he had graduated from college and she was a Sophmore. Esther agreed to a date and on that date Kory was so charming that she agreed to a second date. After dating for two years, Kory proposed on his birthday! (Esther is an awesome birthday gift to have for life
Our Home
We live less than a mile from a local hospital, schools, parks, shopping, and restaurants. We live in driving distance to two larger cities but between us and the cities is a lot of farm land, hiking trails, and water attractions so we have a lot of options to walk with the dogs and explore. We live in a five bedroom, three full bathroom home that has a finished basement for fun activities and games. We live in driving distance to both families so we have a lot of help and support! We have a room ready for a child and we can't wait to need it!
Growing up with an older sister and older cousins I learned a lot early on! My parents taught us how to work hard for what we had, be kind to others, and always be willing to help. I was younger of all the grandkids so I became the "uncle" at a young age. My sister has two children and my older coy sons have several kids so I have always been the playful and involved adult who would play with the kids! I was a swimmer in high school and college so I knew how to manage my time and how discipline was important. I can't wait to be involved with my children as they become involved in school activities and sports! I will share with them how to handle stress and time manage because I have had experience with that and can't wait to walk with them. I cherish the opportunities that my parents let me have growing up; I was involved in a lot of sports and activities so I learned different skills and got to know a lot of people. I love interacting with people through sports and video games! My parents always supported me in what I was doing and that is something I'll be able to pass on with my family.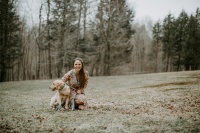 I am one of ten children! I am fourth in line; there are six girls and four boys. I went to college for fashion merchandising but I have done homecare since high school; finally four years after graduating with my degree I am happy to say I own my own clothing boutique that sells women's and children's clothing and gifts. I love hosting parties at my home! I enjoy the planning, shopping, food and drink preparation that is involved and this is something I can't wait to do for my kids as I plan their birthday parties and holidays! A tradition that was my favorite growing up and something I will do with our kids is that on Christmas Eve my parents let us bring down our bedding and sleep in the living room "under the tree"(really only one person could sleep under the tree but this is always what we called it) and they would bring us our stockings and we would open them while my dad recorded us someone would get a movie that we would watch after opening and we would always fall asleep during the movie. I have so many things I can't wait to share with my children like baking that I learned from my grandma, soccer, sewing, and how to tend to a garden. One thing I am passionate about is not giving my children a lot of things but instead giving them experiences, memories, and vacations as a family!