Our Story
Kendrick and I were both raised in Christian homes with strong family values. We met in middle school at our church youth group in Alaska. Throughout high school, our friendship grew as we shared mutual friends that adventured with and encouraged each other. We started our great adventure of marriage in June of 2009 at 18 and 19 years old surrounded by our loving family and friends. Our marriage is strong and it continues to strengthen as we pray together, pursue Christ, persevere through life, and lock arms through the challenges and rewards of raising a family. We are fully committed to each other and promise to continually work on loving one another more each day.

We value and crave family time. On evenings during the week you can usually find us out front while the kids ride their bikes on our quiet street, biking to a park, or in the backyard playing on various toys. Hide and seek, Wii Dance parties, and Mario kart racing are also favorites! We love traveling and make it a priority. We make a few trips to Alaska each year to visit grandparents, aunts, uncles and cousins, but also try to explore new places. Stevi has family in the Phoenix area and we make it a point to escape the gloomy Pacific NW weather to play in their pool and explore the desert. We anticipate more travel in our future as the kids grow. Hawaii, Ireland and the UK are at the top of our list. We attend the Scottish Highland Games each year and the kids love hearing the bagpipes and watching the sporting events. We'd love for them to experience new cultures first-hand. Our family loves to camp during the warmer months and we enjoy disconnecting from daily distractions and focusing on making memories. Thunderstorms are a favorite at our home, and we'll often cuddle up under our gazebo beside a lit fire to watch the storm pass over. We discovered canoeing and kayaking this past summer during a family reunion in Minnesota and plan to do more in the future. Christmas is our favorite holiday and we love taking the kids sledding, making cookies, and "camping" out in the living room near the tree while falling asleep to a classic Christmas film.
Our Home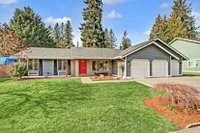 We live on a quiet street in a wonderful, established neighborhood. We know most of our neighbors and the kids are the first to wave and say "hi" when they see any of them. We even have some neighbors that come play board games with us after our kids are in bed!
We have a community park just two blocks away, and many other parks nearby. We love our 1,260 sqft rambler and find happiness in owning a small home and utilizing the space we have. Our backyard is quite large and furnished with a gazebo, fire pit, climbing dome, small trampoline, swing, sandbox, water table (in the warmer months), and lots of other fun toys. We love roasting hot dogs and marshmallows over our fire pit and having friends over to BBQ and play.
Hey there, I'm Kendrick. I love spending time outside with my family. I enjoy running a few times a week, hiking in the mountains, and skiing. I like to work on projects around the house with my dad and love to take the kids out to breakfast. I have 3 siblings, the youngest of which was adopted from China when I was 12 years old. I have a wonderful relationship with my parents and we are blessed to be able to see them often. I went to the University of Alaska in Anchorage and have a degree in Economics. I am analytically minded and currently work as an Alliance Program Manager for an Airline. I successfully maintain a healthy work/life balance and make it a point to be home in the evenings to help with the kids and share dinner with the family. I like to spend time in the backyard around the BBQ grilling various kinds of meat. I enjoy serving with others in the community. I serve widows in our church on a regular basis by helping them with basic yard and housework.

Fun Facts:
-I have played guitar for over 20 years and enjoy strumming some tunes for my family in the evenings.

-I enjoy reading books and blogs on personal finance.

-Math is my favorite school subject and I look forward to helping our kids with their math homework someday.

-My greatest pride is being a husband and father - I love spending as much time as I can with my family.
Hey! I'm Stevianne but often go by "Stevi". I feel blessed to be a stay at home mom and consider it a joy to be able to spend my time loving, teaching, and watching our kids grow. I love seeing the light in their eyes when they learn and experience new things. I find joy creating new crafts and projects for our kids to help them learn. Some of my favorite activities with the kids include reading stories, painting, going hiking, playing at parks - rain or shine, and letting them help in the kitchen (making pancakes cookies, and muffins is a current favorite). I enjoy learning new recipes and have been experimenting with sourdough bread and treats. I have 3 siblings and keep in touch with them through visits and Facetime. I talk with my parents at least a few times a week and always enjoy visiting. I am a great communicator and like to arrange get-togethers to spend quality time with my friends. My favorite ways to "refresh" are by playing the piano, making a craft, or going thrifting. My grandma taught me to knit in high school and I enjoy knitting while watching movies during the winter months. My favorite treats are dark chocolate and sour candies.

Fun facts:
-I got my hairdresser's license after high school and though I am no longer pursuing it as a career, I enjoy cutting our kids hair and sometimes our friends hair also!

-Kendrick proposed to me with "Marry Me?" spelt out in Christmas lights because I love them so much.

-My favorite movie genre is musicals, but romantic comedies are a close second!