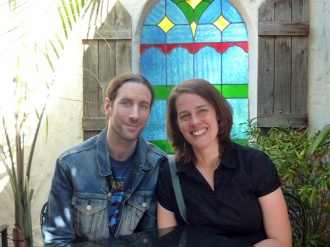 Our Story
We are thrilled and honored that you are considering us to be the adoptive parents of your baby. We hope you can get the feeling from this profile that we are trustworthy and kind people. We admire your courage and hope your decision to choose us will be one that you feel good and confident about.
We met online. Our first date was dinner at a sushi place where both of us were nervous, awkward and ate things we didn't like. But, we felt an instant connection, and after two wonderful years together we knew it was time to get married. We have been through good times and bad, but through all of it, we have learned to love each other even more.
Our Home
We eventually bought an old house and have worked to make it cozy and inviting. Our yard has big pecan trees and tons of room to relax or run and play with our dog, Daisy. We also have a couple lizards (leopard geckos) that Isaac likes to take care of. We love traveling, but we also love hanging out with friends or relaxing at home.
Julie grew up in Texas and majored in Architecture in college. She now works in Interior, Lighting and Graphic Design. She enjoys making things, bargain hunting, music, watching old movies, saving old buildings, making crazy Halloween costumes, daily phone calls with her sister, iced tea and constant learning. She has a great sense of humor and is the de-facto emergency contact for all her friends and family including her in-laws. Julie can truly find the solution to most any problem and is always happy to provide guidance. She is kind, smart and strong. She is the most generous person I have ever known.
Isaac is my favorite person. He grew up in New York state and majored in Psychology before going in the field of Information Technology. He is an incredible artist and finds the most interesting detail wherever we go. Isaac is soft-spoken, curious, honest, smart and very funny. He enjoys reading, grilling outside, watching zombie movies, computer gaming and going on adventures. He has a vivid imagination and can make home feel as fun as anywhere we could travel. He is loving, gentle and cares deeply about animals, the planet and that people treat each other with compassion. Isaac is going to be a protective, nurturing and fantastic father!