Our Story
We met in Acapulco, Mexico, while vacationing with mutual friends. We liked each other but thought it was too good to be true. After having a long-distance relationship going back and forth between California and Peru, Tom finally decided he could not live without Patricia anymore and asked Patricia's parents for her hand (and he did it in perfect Spanish!)

We got married in 2009 in a beautiful place in Patricia's hometown in Peru. Patricia moved to the U.S. leaving behind her job, family, friends, and delicious Peruvian food. But she would not have had it any other way. With Tom's unconditional love and support, she made it!

We enjoy being together. We love traveling, exercising, going out to eat and dance, staying at home with our dog Bennie, cooking, watching movies, having great conversations, or reading. We like to make each other laugh with funny faces, silly jokes, and sillier dance moves.

When needed, we are both responsible and dependable and make a great team.



➡️ En Español:

Nos conocimos en Acapulco, México, mientras vacacionábamos con amigos en común. Nos gustamos pero parecía que todo era demasiado bueno para ser verdad. Después de mantener una relación a larga distancia yendo y viniendo entre California y Perú, Tom finalmente decidió que no podía vivir más sin Patricia, y pidió a sus papás su mano en matrimonio (y lo hizo en un Español perfecto!)

Nos casamos en el 2009 en un lugar lindo en la ciudad natal de Patricia en Perú. Patricia se mudó a los Estados Unidos dejando atrás su trabajo, familia, amigos y su deliciosa comida Peruana. Pero ella no lo hubiera querido de ninguna otra manera. Con el amor y apoyo incondicionales de Tom, lo lograron!

Disfrutamos estar juntos. Nos encanta viajar, hacer ejercicio, salir a cenar y a bailar, quedarnos en casa con nuestro perro Bennie, cocinar, ver películas, conversar o leer. Nos gusta hacer reír el uno al otro haciendo muecas, contando chistes, o haciendo pasos de baile super chistosos.

Cuando la situación lo requiere, los dos somos responsables, podemos depender el uno del otro y formamos un gran equipo.
Our Home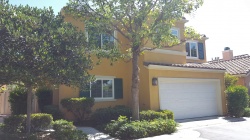 We bought our house in 2014 and have been having fun sprucing it up. The nursery will be on the second floor next to our bedroom.

Ours is a safe, diverse, fun, and amazing community. We live in a great walkable neighborhood close to beautiful natural trails, pools, tennis courts, churches, and highly-ranked schools. It is biking distance from the beach.

Our neighbors are really nice and there are a lot of kids and pets around.



➡️ En Español:

Compramos nuestra casa en el 2014 y nos hemos divertido arreglándola aquí y allá. El cuarto de bebé/bebés estará en el segundo piso al lado de nuestra habitación.

La comunidad donde vivimos es segura, diversa, divertida y encantadora. Nuestro vecindario se presta para dar paseos a pie y queda cerca de hermosos senderos naturales, piscinas, canchas de tenis, iglesias y de escuelas y colegios prestigiosos. También podemos llegar a la playa en bicicleta.

Nuestros vecinos son muy agradables y siempre hay muchísimos niños y mascotas alrededor.
10 facts about Patricia:

1. As an attorney, she specializes in immigration, asylum and humanitarian law, and helps refugee families and children who have been persecuted and abused.

2. Cares a lot about animals – all sizes, all types.

3. Was also an attorney in Peru and worked for the federal human rights agency.

4. Can be shy occasionally which may make people think she is serious.

5. Likes to learn languages and speaks four of them … although they tend to get rusty if not practiced.

6. Chocolate has a very special place in her heart.

7. Enjoys visiting museums, especially when traveling.

8. Was a sport-aholic growing up – now, yoga and Pilates are good for her joints.

9. Can make the best funny faces.

10. Loves the beach.
10 facts about Tom:

1. Is super focused in everything he does.

2. Works in commercial real estate.

3. Was a U.S. Marine; also worked as an air traffic controller in Afghanistan during the war.

4. Has a special relationship with anything with peanut butter.

5. Competes in triathlons and marathons and loves to ski.

6. Loves to dance salsa, merengue, and bachata.

7. Is passionate about cooking and pairing food with wines – Tom's parents made wine in their vineyard and he inherited the love for wine making and wine.

8. Loves to play chess, is a numbers guy, and devours books like nobody else.

9. Swam the deadly "Alcatraz Challenge" in San Francisco, twice!

10. Go Packers! And, … Go Trojans!