Our Story
Here is a little background on us as a couple. After meeting each other online in December of 2015, we dated for a year and then moved in together on our 1-year anniversary. We got engaged in September of
2019 and, unfortunately, due to Covid, we have had to postpone our wedding but are in the process of
planning it for 2023. We look forward to celebrating "us" with our family members, closest friends, and hopefully a child. We have been together for over 6 years and we cannot wait to spend the rest of our lives together. We enjoy each other's company, have amazing conversations, we laugh, and give each other comfort and security. We promise these things to each other always, and to your child. At the beginning of our relationship we talked about what a family would look like for us and adoption
was on the table early on. Gina is a breast cancer survivor so we knew that conceiving naturally would
be difficult and unsuccessful fertility treatments proved that to be the case. That was okay though because we both agreed that whatever the future held for us, adoption would be the way in which we would build our family. No matter what, our future together involves us being parents to a child and we are so happy to be on this journey together. When we think about raising your child, we look forward to so many things we have seen our friends and family do with their children such as bath time, bedtime stories, baking cupcakes, birthday parties, playdates, school dances, summer camp and so much more, including music concerts! We love music and can't wait to expose your child to different types of music from every decade. We love vacationing at the Jersey shore and can't wait to pop-up one of those sun tents on the beach and lug out one of those carts (Marcelo has been working out to prepare for this) filled with beach toys and all the stuff you need to spend the day.
Our Home
We bought our home in 2019 right after we got engaged and we love where we live! There is lots
of space for children, lots of natural light, and a nice kitchen where we spend lots of time baking and cooking delicious meals for family and friends. We live in a quiet, safe, neighborhood and close by are many playgrounds, libraries, and fun activities for children of all ages. We also live in an excellent school district. Summers are especially fun in our town. There are summer
concerts, festivals, activities at the lake, and farmers markets. Our house has a huge patio and having family and friends over to barbeque and sit at the fire pit is one of our favorite things to do. In the winter we move inside and spend time chatting or watching movies in front of the
fireplace. Our home is super cozy and comfortable. A perfect place to raise children.
Gina (Through Marcelo's eyes)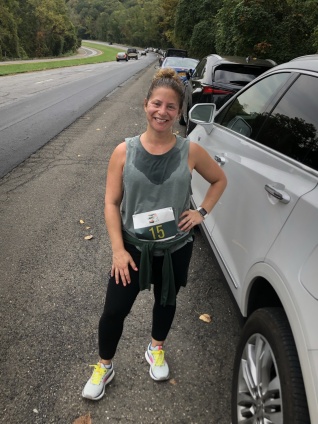 Gina is one of the strongest people I know and I am certain she will be a wonderful mother. As a
breast cancer survivor, she is a true fighter and accepts any challenges in life with tenacity and grace. Gina is a fiercely independent woman, which is one of the things I admire most about her. She is beautiful inside and out – a loyal partner and friend. Gina is the type of person who, if you
call her and say 'I need help,' without a question asked – she'll be there. I've witnessed her selflessness with her friends and have the honor to witness it daily, as we share our life together. A natural caregiver, Gina keeps our family (including our two dogs, Teeny and Max) running smoothly, as well as cares for her mom – taking her to appointments, being a companion and making sure she has everything she needs. I honestly don't know what I would do without her. On top of all of that, she still manages to find time to exercise, running half marathons and taking UFC classes. She loves to bake for family and friends. Making cupcakes is her favorite. She is an accounting manager for a large law firm that she has been with for 24 years and she has hermaster's degree in finance.
Marcelo (Through Gina's eyes)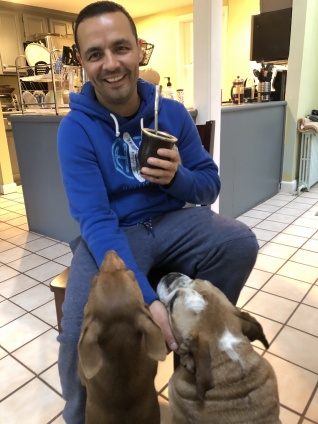 Marcelo is a motorcycle tech and a master mechanic. Marcelo has been working in the
motorcycle and car industry his entire adult life and loves cars. He is currently working full time for a motorcycle shop and building a side business that he hopes to make his full-time job and be an independent owner in the next few years. Marcelo came to the U.S. in 2002 at the age of 19. He did not know anyone, spoke no English, and had very little money. From the minute his feet landed in the U.S. he knew this was where he wanted to build a life and raise a family. Within
days of arriving in the US he had an apartment and a job. Within the first year he bought his first car and within 5 years he opened his own business. I am so impressed by Marcelo's drive and determination back then and now. He loves this country, the life we have created, and he cannot wait for this next chapter…becoming a father. He is going to be amazing! Marcelo is the hardest working person I have ever met. His drive to succeed in everything he
does leaves me in awe. Marcelo is also the funniest person I have ever met. He makes me laugh at least once a day. His family is in Uruguay and he speaks to his parents and sister daily. We make sure to keep his connection with his family a priority because he is only able to see them once a year when we go to visit them. Marcelo is a great cook. He is one of those people that can open the refrigerator, take inventory of what is inside and create a meal with whatever is
available. I am very envious of this talent. Marcelo loves to work out and is very passionate about martial arts. He has been practicing Muay Thai for many years and teaches a class once a
week to beginners at our local gym. Marcelo can also fix everything and anything. If he can YouTube it, he can fix it!