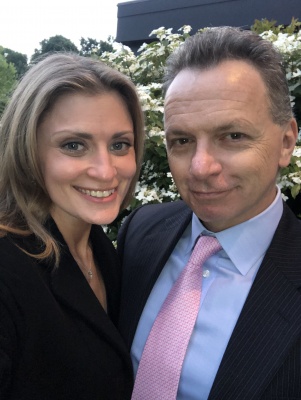 Our Story
We have always wished to have children together and while we cannot have a child naturally, this challenge has not diminished our desire to start a family. We have so much love to give and want to make our world complete by bringing another child into our hearts and the wonderful life we have created.
Our Home
Our neighborhood is a great place to raise children. We have wonderful schools, parks and libraries. There are a ton of kids on our block and everyone is very family oriented. We've made friends with our neighbors and enjoyed watching Gabriella and James create long lasting bonds with the local kids. Our dogs love it too!
My wife, Robin, is kind, loving, and the most caring person I know. Putting others' needs above her own is what I admire most about her. She is an incredible woman and everyone's friend. Robin works as an administrative assistant at the local public school. She loves her job but looks forward to spending time at home with her family.

Robin loves spending time outdoors. Whether it be taking our two rescue dogs, Rudy and Harley Quinn for a walk or taking beach vacations, she is happiest when she is out and about. She takes time out to plan trips with her family and friends. She is athletic and loves to do yoga. She loves to cook and share her recipes with the family.

Robin is an exceptional person, she is the love of my life. She looks forward to spending time with Gabriella and James. Robin's thoughtfulness, patience, and warmth are going to make her an amazing mother. I cannot wait for this next phase in our lives.
My husband, James, is a wonderful man. I have always known him to be a dedicated, hard worker. He is one of those people who enjoys their work and does what makes them happy. James wears many hats. He is an attorney who spends his days off as a paramedic. He has an energy about him that makes him so special and unique. He truly enjoys every moment life has to offer.

James is an outdoorsman who loves sports and CrossFit. In his spare time, he enjoys traveling and spending time with our dogs. He is a great navigator and leads the way to fun adventures while on vacation. James loves being around his family and friends. He enjoys reading and doing crossword puzzles. He is very sociable and gets along with everyone.

James is an amazing father. He shares all his hobbies with his son. It really is amazing to watch their bond. His daughter adores him and they love being together. Expanding our family and bringing another child into our lives and our love is going to be the greatest adventure of all.