Our Story
We met about 15 years ago when we were both students at the University of Minnesota. We've been happily married now for 8 of those 15 years. Mike is an Engineer at Toro. Kristia is a Facility Maintenance Planner at the University of Minnesota. We're both avid readers, board game players and ballroom dancers.
Our Home
We call Eagan, Minnesota home. It is a suburb of the Twin Cities of Minneapolis & St Paul and has been voted the one of the top 20 best places to live in the US for 5 years in a row!

We share our home with our very fluffy cat, Ulla.

We strive to make our home welcoming and comfortable for everyone who enters. Both of us grew up in homes where all of our friends wanted to be and we love continuing that in our own home. We host a big summer party every year and try to have friends over whenever possible. We usually do at least one big fondue dinner a year, which is always delicious.

We enjoy being home and are constantly working on some project. Kristia is either knitting, baking or gardening. You can often find Mike in the garage with his scroll saw, reading a book, or fixing stuff around the house. Of course during Minnesota winters there's nothing better than curling up on the couch by the fire and watching a movie. Kristia is a hot chocolate connoisseur so you'll be sure the cocoa is superb.
I fell in love with Mike in college. We met in class and he picked me up by enticing me with Lord of the Rings on a six and a half foot projection screen. Mike & his roommates cleverly hosted dinner every Saturday night at their place for anyone who wanted to come by, I started showing up once a week, then twice a week, and eventually we fell in love and got married. Mike still does all the cooking in our home, and he's such an excellent cook I see no reason to stop him. Mike is a very generous person, which is one of the reasons I fell in love with him. He always wants to be sure everyone is happy and at ease. When he takes up a new hobby, like his woodworking, he always makes gifts for our family and friends. He's also the first one our friends call when they need help; whether it be help moving furniture, laying a wood floor, figuring out a computer problem, or taking their mind off their worries. Mike's generosity with his skills and his time earned him the nickname "Dad" a long time ago.

He's fantastic with children, all of his nephews light up when they find out that Uncle Mike is coming over. He makes the best faces, so babies just stare at him and giggle. When the kids are a bit older his woodworking and engineering skills are in demand to fix every broken toy. Mike has also made several games & puzzles for the kids in our lives. He hopes to pass on our love of gaming. Whenever we get together with friends or family we always end up playing a game; whether it be cards, board games, or other tabletop games.

Mike's family is fun loving, caring and very supportive of everything we do. I won the in-law lottery. His Mom is a saint, she makes legendary chocolate chip cookies and is one of the best people to just sit and talk with. Mike's Dad is a big kid himself. All the grandkids love Grandpa, and not just because he gives them Dove bars out of the freezer. He loves to get on the floor and will spend hours pushing you on the swing or playing hide & seek. Mike is the youngest of four, so he likes to say that he learned from all the bad examples that came before him. All of his siblings are now very close and they call each to ask advice, offer support, and to just stay in touch. I'm very lucky to have such wonderful people in my life.

~Kristia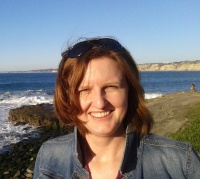 If we had to split up duties in the relationship then Kristia would definitely be the "heart" of us. She has always had a huge heart, even back when I first met her in college. That's a big reason I was attracted to her. When people love so easily it's easy to love them. Kristia cares for everyone. I may be "Dad" to all our friends but Kristia is "Mom" that everyone wants on their side. She's responsible, level headed and dependable. When we first started dating she spent a summer in rural Kentucky organizing volunteers to help fix homes. She's also been known to drop everything to help a friend when their basement started flooding. She really is the best kind of friend to have.

Kristia loves her family and always goes out of her way in order to try and spend time with them, whether it's making the trek down to see her sister and help take care of her nephew & new niece down in Iowa or driving to the middle of nowhere in Wisconsin for family reunions with all her cousins and aunts and uncles. She is also loved by her family...and my family, in fact, sometimes I think my nephews like her more than they do me! She's always had a way with kids. I think a lot of this may have to do with her being the oldest of four - there was always a younger one around. Kristia honed her skills with kids there and unleashes them on our nephews with games of trains and legos or life lessons like baking and cooking.

Kristia herself has many interests she tends to enjoy often enough. She's an avid knitter, many of our friends have gotten baby blankets and mittens from her hobby. She greatly enjoys the outside and will often times sneak out for a bike ride around a lake with her mother or just a walk through the neighborhood or down to the county park just a few miles away. We've both been ballroom dancers since just before we were married and we still do lessons to this day. She loves a good board game or round of card games.

~Mike