Our Story
We have been happily married for 14 years. We met at the local non-profit organization where John still works.

Daily Life:
You might wonder how daily living works in a large family. Life is busy around here, but never too busy to stop and focus on what really matters. We work hard to integrate the interests of each child with the needs of the family as a whole. While no family is perfect, we can confidently say we have a harmonious and organized household.

We are a musical family (except for John!) and all of us love singing and playing instruments in our church and homeschool. We also enjoy family walks, traveling to interesting places, playing games together, and watching movies. In the Spring each child may choose a sport if they wish. During the Summer they participate in fun local day camps. Emily is also passionate about natural foods and remedies. She cooks healthy, organic meals for the family most of the time. A favorite is taco salad!

Siblings:
Our oldest, Elie (12), is a sweet, old-fashioned girl. She enjoys crocheting, writing, and spending time in nature. Penny (11) is our spunky cheerleader. She is athletic and likes telling jokes. Cara (9), is our soft-spoken peacemaker. She is an expert at fixing things and loves drawing. Tommy (7) is a kind and helpful boy. He spends time fishing in our backyard creek and making paper airplanes. Starling (5) is our (LOUD) family spokesman! He enjoys matchbox cars and takes great pride in being a big brother. Ari (2) loves baby dolls and shoes. She is shy around strangers, but sassy amongst family! Arti (2) is into Duplos...and food! He trembles when he is excited, which is pretty much all the time. We also have two furry family members: Colby (a goofy doodle mix) and Whiskers (a sweet tuxedo cat.) We love how God made each child to be so different and unique! We anticipate rejoicing in the special personality differences of any adoptive child, in addition to his or her unique racial or cultural background. We embrace and celebrate God's diversity and creativity!




Our Home
Neighborhood:
Our D.C. Metro suburb is quiet and peaceful. We live in a large home on a 1-acre plot of wooded land next door to our best friends. The kids play outside for much of the day, with neighbor kids coming and going as they finish their schoolwork.

We have a big yard with a little creek, a playground, and a deck.

We attend weekly services at a church nestled right in our neighborhood. We like to think we have the advantages of both a quaint small town and diverse big city life.

Community:
We are in close community with our large extended family, and many lifelong friends. We have several friends who model beautifully what adoptive parenting looks like, including how to cultivate good relationships with birth families.

We would love to consider birth family as part of our extended family and continue communication in whatever capacity they would feel comfortable with.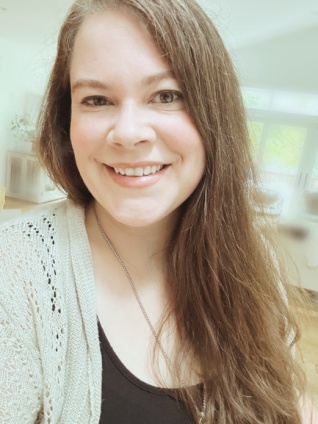 Emily grew up in a family with 1 brother. Big family life was a totally different experience for her!

She cares deeply about investing in the lives of each child. She stays home full-time to take care of the kids and homeschool them. She has a M.A. in theology, and serves as a singer for church and other local groups.
John grew up in a family with 6 siblings. Big family life was normal to him.

He is a loving, kind, faithful husband and Daddy. Every evening he can be found taking kids to the playground, or playing "3-2-1-blastoff!" with little ones, or leading story time.