Our Story
We are the Richards; Don, Maggie, Ollie, and Wells.

Don is from South Florida and went to the University of Florida for undergrad. He graduated in 2008. Maggie is from East Tennessee and went to East Tennessee State University for undergrad, also graduating in 2008. A few years after graduation, Don began Law School at the University of Richmond. Maggie moved to Richmond to work for her mom.

We met at a kiddie pool party in May of 2012. A mutual friend knew us both, thought that we might be a good match, and invited us to the party. Don showed up wearing homemade jorts and knew instantly about Maggie. I (Maggie) was not sure about him (at first). We were both leaving the party when Don asked for my number and I thought that if nothing else, we could be friends.

We starting hanging out as friends, and once we got to know each other, realized we were a great match, began dating, and fell in love. We were married the following year on a beautiful and truly magical September day at Maggie's mom's house.

The theme of those first few years of our marriage was about getting on our feet, financially. It took a bit of time and lots of perseverance when, unexpectedly, Don was offered an amazing job in NYC in the summer of 2017. We moved to the area and stayed until 2021 when we moved back to Richmond after Don's job went permanently remote during Covid.

Those years will always be very special to us - not just because we found some solid ground for our feet - but because we welcomed both of our boys. The two best gifts we have ever been given. Ollie (age 5) was born in March 2018 and Wells (age 2) was born in 2020.

Don works for Airbnb as a Product Manager. He decided after graduating from Law School that his real passion lies in technology. Maggie was a wedding planner and designer before Ollie was born when she decided to stay at home and be with him. She now uses her passion and talents in design at their church.

We are a family that loves God and tries to keep him at the center of our lives. We regularly attend church and I (Maggie) serve on our Environments and Events teams. We enjoy family time together, taking random day trips, visiting the beach, eating and being outside together, taking family walks, making each other laugh, and staying active.
Our Home
We own a home with a large, fenced in back yard, a playroom filled with lots of toys, and a bedroom ready to accept another little love.

We spend a lot of time in our backyard. Our boys enjoy playing on their playground set, playing with their water table, or digging in the dirt. On warm days you can almost always find us eating dinner outside together.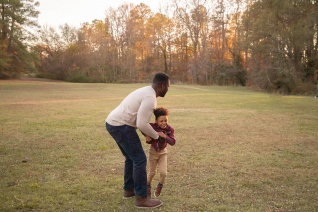 Don loves his family above all else and often describes himself as a "family man". He is kind, compassionate, intelligent, funny, level-headed, and fun to be around. He has a strong faith and a strong work ethic.

As a husband Don is attentive, caring, non-judgmental, giving, and uplifting.
As a parent he is steady and loving. His strengths lie in creating routine and always thinking about his boys' needs. He shows his affection and love every day in the way he works hard and serves his family.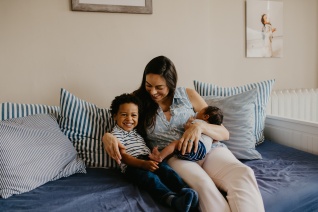 Maggie is creative, funny, outgoing, intelligent, and thoughtful. Her joy comes from her boys and is the greatest purpose of her life.

As a partner she is thoughtful, caring, empathetic, consistent, and supportive. As a parent she is loving, engaged, thoughtful, fun, and dedicated. She takes joy out of celebrating the big and small moments of our sons lives - making a big deal out of birthdays and holidays. She hand makes our family Halloween costumes and throws fun birthday parties for our boys. She is always looking for ways to bring joy into the home and to grow as a mother.