Our Story
Our story starts out with a bit of sheer luck. We actually worked in the same office for years and had no idea. Peter left our firm in 2013 only to return in 2014 and work directly in my department.
One morning we bumped into one another on the train, only to find out that we lived six minutes from each other. We became train buddies, sharing stories and talking about our respective relationships. As fate would have it, by late 2015 both of our relationships took a turn and we leaned on each other for support. Over time, we grew from being just friends to having Saturday brunches and exchanging glances and smiles. We were building our forever and didn't even know it.
Peter proposed in 2018, only five seconds before the New Year. By the time Joann said yes it was 2019, so the running joke is that it took her a year to accept! We were married by July 2019 and immediately started working on our family. Due to complications, we are unable to conceive biological children. However, a dream delayed is not a dream denied! We wholeheartedly want to become parents and would be blessed to open our hearts and home to a child through adoption.

Our Home
We looked at many houses before choosing this one. It was the only house that felt like home as soon as we walked in. We have four bedrooms, three bathrooms, a deck, and a huge fenced-in backyard, suitable for a child and our dog Leo to run freely.
Our favorite part of our home is the family room. It has board games, a TV and a large L-shaped comfortable couch for snuggle time. It would be the perfect place for bonding with a child. We can't wait for movie nights, hours of Monopoly, Uno or left, right, center, with popcorn or ice cream under a blanket fort!
We moved to this neighborhood for many reasons. To start, it is in the town next to where Peter grew up. We are a short car ride away from the central train hub, which can get us to and from the city very easily. The Children's Museum and Freedom Tower are on our route! This district has the best schools in New Jersey and the neighboring towns offer so much culture.
We've gotten to know our neighbors well. We partnered together to shovel snow after the first storm of 2021. This is the type of neighborhood where a child could have a lemonade stand or bake sale and everyone would come to support him or her.
They say a house is not a home without family, and that we have a lot of! We have 2 nephews and 2 nieces. Peter's parents live a few minutes away. We have extended family in the neighboring towns and in NYC. If we want to go further, we can visit family in Guatemala, Canada and Italy. Get togethers and holidays are truly a joy. A beautiful experience of laughter and love that we hope to share.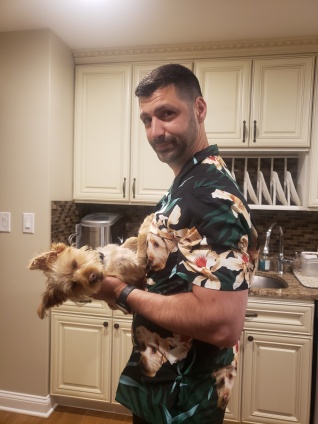 I am of Italian decent and grew up in the suburbs of New Jersey with my parents, brother and sister. My family has always spent a lot of quality time together - not just my immediate family, but my aunts, uncles, cousins, and grandparents. When I was a kid, my aunt and uncle moved in across the street, so we were at their house or they were at ours.
Each household had a very large dining table for all the family members to gather, eat, and play board games or just chat. When my wife and I bought our home, one of my requests was to buy a large dining room table because I already envisioned sharing the same experiences from my childhood with a little one. I imagine a child taking part in our large gatherings, sharing in our love for food, and being surrounded by our wonderful family, just like I was.
When I'm not at work in finance, I enjoy working on projects around the house. There's nothing like tackling a to-do list and enjoying a job well-done at the end of the day. I can't wait to have a little helper and look forward to teaching them how to ride a bike or play catch!
My parents are from Guatemala and moved to New York City right after marriage to pursue new work opportunities. I am so glad to have been born and raised in NYC as it taught me resilience and expanded my cultural awareness.
Although I love the city, living in a small apartment and not having access to a backyard did have its setbacks. My younger sister, brother and I would become creative and make space of our own. As I grew, I dreamed of creating a home where a child could play and be safe. In order to achieve this, I pursued a career in finance. I'm incredibly proud of the hard work and dedication put toward creating a successful career that will allow me to support my family for the years to come.
I also have my prior job to thank for introducing me to my husband; it's where I met Peter. He grew up in the suburbs so he understood the kind of life I dreamed of and was working towards. We purchased our home in 2020 and I already envision being called for, "Mom!" from across the yard while my husband BBQs on our deck. I thankfully work from home permanently so I cannot wait to spend time with a little one and support him or her as they develop dreams of their own.