Our Story
Hi! We are Will and Talia from New Jersey. We are high school sweethearts and were married in 2008. We are excited to become parents again through adoption and are grateful for this opportunity to share our lives with you through our pictures. Our child will always know their adoption story and the wonderful way we became a family. We promise that should you decide on adoption with us, your child would be loved by a family filled with laughter and unconditional love. We admire your strength as you consider adoption and wish you peace.

Our Home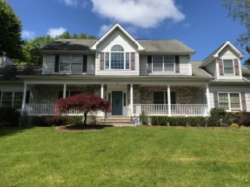 Our house is a warm and loving place that is filled with laughter, games and family dinners.

Our home has a playroom, a really large yard with swing sets, volleyball net and a trampoline. We live in a wonderful quiet neighborhood in a top school district.
I am fun, hardworking, loyal, and very supportive. I am responsible, giving and always willing to help family and friends. I love spending time with our daughter. We enjoy playing basketball, tag and games. I also enjoy spending time with my nephews and nieces. They look up to me and have so much fun when I'm around. I am also a mentor and role model to the youth. I teach Bible Study to the children at my church. I also have a very strong bond with my family and believe that it is important to take care of them as they did for me. I take pride in what I do and believe it is important to provide a stable home for my family. I am very excited to extend our family through adoption once again.
I am a loving, nurturing, patient and generous person. I love spending time with our daughter. We especially enjoy gardening, crafts and dancing together. I also have a special bond with my nephews and nieces. They call me "Titi Talia" their favorite auntie and have a blast when I'm around. I have a very close nit family and spending time together is very important to me. We are always there for one another. I also enjoy music and reading. I am a stay at home mom and truly enjoy the opportunity to be able to be there for our daughter and her activities. I am ecstatic to extend our family once again through adoption.