Our Story
Our story began twenty years ago when we first met in church. We had a instinct connection and of course an attraction. We started spending lots of time together. We went out to dinner and explored all kinds of cultural foods. Also we loved going to the movies and shopping at the mall. As time went on we realized we wanted the same things in life like getting married and have a big family. On October 18, 2003 we were married and traveled to Italy for our honeymoon. About A year later we had our Son Giovanni who now is a teenager. Times goes so fast and here we are hoping and praying that God will expand our family that we have dreamed of.
Our Home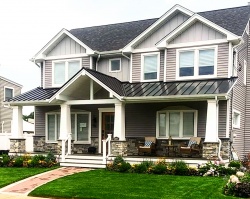 We live in Long Island, NY in our recently renovated modern farmhouse. It has a big porch which we all love especially our Golden Doodle Lexi. On fall nights we hang out on the porch and have a cup of coffee . On summer nights we have a nice big bowl of ice cream as our dog stares at us hoping to lick the bowl. Most everyone who comes over say's that our home is so cozy..Our home is roomy and ready to receive another child to complete our family.
I was raised in a Italian home where there was always family gatherings and lots of food. Family was everything to my parents. My Mom loved to entertain and my Dad was an amazing hostess. I would wake up to the smell of tomato sauce and my uncle playing cards at our kitchen table. My home was always filled with much love and generosity. Our door was always open and when you walked in you always felt welcomed. So I continue to build these traits in me for my family now so they will feel loved and welcomed in our home. My experience has taught me how to be supportive and to love my husband and son with unconditional love.
I grew up in a small town in Suffolk County, Long Island NY. It was an iconic village with a main street filled with all kinds of shops located on a waterfront. I used to love to play outside and explore the woods that surrounded our neighborhood with my friends. My summers were filled spending the day fishing at the docks. I had a big imagination and loved to discover new things. I was born and raised in an Italian /American family and so food was more than something you ate…food was an adventure. I spent so many of my early years at my Grandparents home which was walking distance to my own. There was always food on my grandmother's table. My grandmother was an incredible cook and she inspired me to learn how to cook and have a life time love of preparing meals for my family and friends. I enjoy cooking all types of foods for my family and I try to make eating an adventure for them. Holidays are exciting at our home because I try to fill out table with traditional Italian foods and fill the house with family and friends. It gives me so much pleasure to watch everyone gather around the table. It's my desire that everyone who sits down to eat feels happy and no one ever leaves hungry. We always make sure everyone is included and welcomed in our home. My wife and I have always tried to make a home that is filled with the warmth and strength of faith, family and friends. At our home, we laugh loud, love deep, and pray always, and everyone is welcome. I have a sign on my home office wall that says, "What I Love Most About My Home is Who I Share it With." Now we are Hoping and waiting to share it with another beautiful child