Our Story
We first met in 2002 at a tiny rally opposing the war in Iraq. On the surface, we connected through quirky books and movies but underneath we had an immediate love for each other that we've nurtured for 20 years. We've held each other's hands through highs and lows, including countless moments of joy with our children, preceded by two very complicated pregnancies. Both the highs and the lows have reaffirmed our desire to grow our family.
Our Home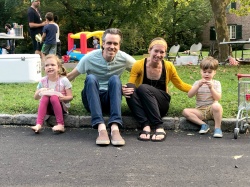 Our house is a warm and inviting place that is often filled with the laughter and noise of play-dates, cousin sleepovers, and family dinners.

We are lucky to have a yard that has room for bouncy castles and slip and slides, but also wildness that hides a tucked away "fairy land." We love that we're a short walk to the beach and woods, and a quick train ride away from NYC. Our town has Asian, Latino, and Jewish communities, and our neighborhood is filled with young families.
Christine is vastly open and curious, and has a knack for finding new and good things in the world. She is an amazing mother: caring, curious, creative, and lovingly present to our two children.

She supports their fun-loving ideas, which results in "grocery shopping" trips from the living room to the playroom, silly characters like "Stinky," and just a world of imagination that fills our home. We've lived in our community for four years, and she has led the charge making new friends, for our children and for our whole family. She is active in our public schools, with an eye toward what is best for our daughter, but also what is best for the whole community with a focus on equity and inclusivity. Most importantly, Christine knows how to laugh until she cries.
Luke is the best of the best. He's thoughtful and generous and always quick to support anyone in need.

Over the years we've been together, I've witnessed him go out of his way to support a friend or family member through a difficult period countless times. These qualities combined with his endless energy and affinity for silliness makes him an incredible father. On an almost daily basis, he builds elaborate pillow forts, wakes up at all hours of the night to soothe a crying child, and embraces ANY feeling our children might have. When our kids' friends come over, they often look for "Mr. Luke," because he's so fun-loving and energetic.