Matt & Erin
Message Us
https://www.adoptimist.com/adoption-parent-profile/44766
Last Activity: 14 days ago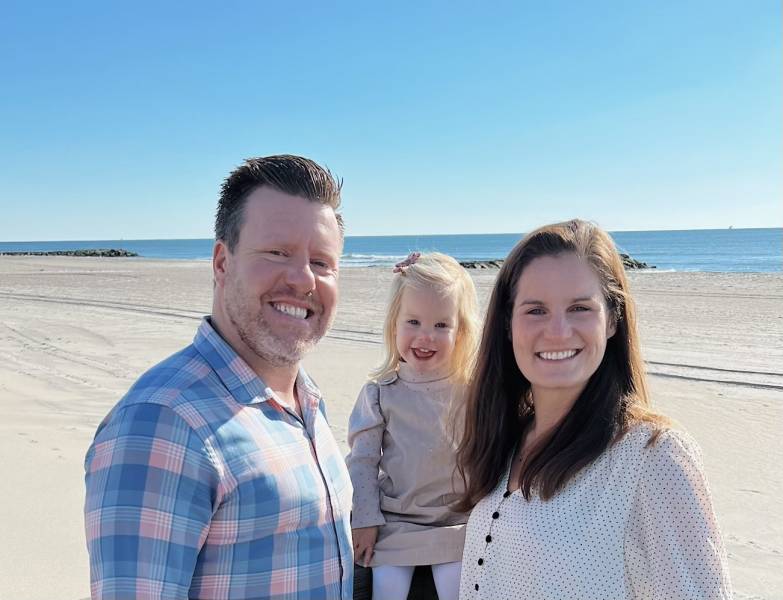 We offer never-ending love and support, a comfortable and secure home, and all of the affection we can possibly give
Who We Are
We met at a bar in Long Beach in 2011. We had both just moved to Long Beach (Erin from NYC and Matt from Toronto). Matt was out at the bar with the Long Beach Surfing Club and Erin was out having a drink with a friend. Matt approached Erin and her friend and we spent the rest of the night out on the town together. Matt asked for Erin's number that night and took her out on a date the next week. We hit it off and have been together ever since.

Erin has a sister and a brother who live in Long Island and a sister who lives in Washington, DC. Her parents live in North Carolina. Matt has a brother who lives in Toronto and his parents also live in Toronto. We are very close with our families and spend a lot of time with them. We have 6 nieces and nephews and love spending weekends and vacations with them. We also have a very large extended family.

We have chosen adoption because we love being Olivia's parents more than anything in the world. She brings such joy to our lives and we think that we have a lot to offer as parents. We also would love for Olivia to grow up with a sibling because we know how special our bonds with our siblings are. Erin was diagnosed with early-stage breast cancer in 2016 at the age of 31. The cancer was fed by estrogen so Erin is now on medication for 10 years in order to control the estrogen to ensure that she will live a long, healthy life. Erin cannot become pregnant on the medication which is why we chose to use a surrogate to have Olivia and also why we are choosing adoption in hopes of growing our family.
Adoption Diary
We had a great weekend celebrating the holiday season! On Saturday we took the train into NYC to see the Christmas Spectacular show at Radio City (Olivia's first time and she LOVED it!) and then went to see the Christmas tree in Rockefeller Center. It's one of our favorite Christmas traditions and is always so nice to be in the city during the holidays!
We had the best Thanksgiving weekend down in Washington, DC spending time with my sister, brother, parents, and all of Olivia's cousins. Olivia has 5 cousins and one little one on the way so weekends with them are always so much fun!
Xoxo Erin