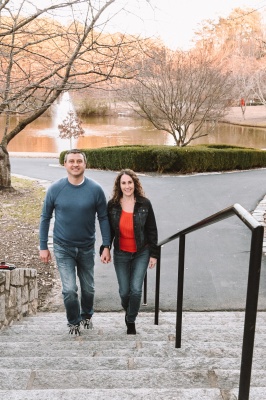 Our Story
Todd and I met at a local restaurant in 2014, and instantly connected with each other. We were friends for awhile and then our relationship grew into more. After dating for
almost three years, Todd proposed in 2017. We were married six months later with our closest family and friends. We share many of the same interests and goals. For both of us, family is one of the most important things in our lives. We cannot wait to welcome a new member to our family!
After trying to conceive and being unsuccessful for years, our hearts led us to embark upon our adoption journey. We both possess an abundance of love to share with a child and consider the gift of adoption a true blessing. We long to share our traditions and love of life with a child and allow them a chance to grow up in a nurturing home filled with joy and opportunities.
Our Home
We live in a cozy condo on the sixth floor of a high-rise building. The condo is
nestled in a quiet cul-de-sac surrounded by parks, walking trails, playgrounds,
and restaurants. We like to get up on Saturday mornings, go for a long walk on one of the trails or parks near our house. When the weather gets warm, we like to pack a picnic and try out a different spots. We have a beautiful pool that we
enjoy using during the summer. Our building is very family friendly. We like to buy new pool floats each summer and relax by the pool. Jennifer was in the
junior Olympics for swimming. She cannot wait to teach a new child how to swim. The condo has fun family events throughout the year like cookies with Santa, ice cream pool parties, and movie nights. We're looking forward to turning our guest
bedroom into a warm and comforting nursery one day.
Jennifer's outgoing and compassionate personality makes it hard not to love her from the moment you meet her. She has a smile that lights up a room. People genuinely love being around her because of her caring, selfless, and supportive nature. She does not hesitate when someone is in need often stopping her own activity to provide
support and listen. Jennifer personifies strength and radiates joy as she lives her life striving not only do her best, but help others be the best versions of themselves. These endearing qualities make Jennifer the perfect middle school counselor. Her compassion and empathy allow her to have a major impact in the lives of her students. Jennifer loves being a middle school counselor. She possesses the expertise, skill, and
most of all love to help students navigate through life. She holds a strong work ethic and values education which shines through each and every day she walks into her school. Jenn loves trying new recipes, especially baking cookies and other desserts for
the holidays. She is always open to experiencing new places and traveling, especially to the beach. Like Todd, Jenn also values a healthy lifestyle and knows the importance of staying active. She advocates for taking care of yourself emotionally as well as
physically, and you will often find her enjoying yoga or on a Peloton ride. Jennifer truly
makes our house a home and has built an amazing life for us. She lives by example modeling the behaviors she truly values and any future child may see a true example of
a strong, successful, family-oriented person.
Todd possesses an outgoing, energetic personality and knows how to connect with
people making them feel relaxed and welcomed from their first interactions. His ability to bring joy and positivity to others represents one of his most notable qualities. He
loves life and genuinely cares about people, especially his family. Todd's work ethic has benefitted his career and created financial stability for his family. He holds the title
of senior project manager at a large utility company for electric transportation. While incredibly driven in his
career, he knows the importance of balancing work and home life. Todd has eleven year old twins from a previous marriage. The twins live with their mom in Alabama. We see them on the weekends, all holidays, and over the summer. Todd has a competitive nature and knows the value of maintaining a healthy lifestyle. Todd enjoys being outdoors and stays physically active by playing golf, running, and working out. Todd regularly attends sporting events for a wide variety of different sports.
When relaxing at home, he enjoys cooking, playing in the pool, and listening to music especially country and classic rock. He makes great chicken enchiladas and can grill just about anything. He loves to be surrounded by family and treasures vacations, especially to the beach. Adding a new child into his life would be a wonderful
opportunity to share his loving nature.