Our Story
Our love story is a bit of a RomCom. Two youngsters fall instantly in love via a dating website but their individual pursuits and distance keep them apart. But, they never forget one another and after a decade they reunite and pick up right where they left off. That's the abbreviated version.

What made us click, despite being wildly attracted to one another? We both came from humble beginnings, multi-cultural backgrounds and we felt instantly seen and understood by the other person. We were both nerdy, (semi) cool kids that enjoyed music of all genres, talking politics and knew that we had just this one life to live it to our fullest.

Today, we work hard but play harder. Our greatest joy is our time together as a family. We love learning by doing - no matter the season, we always have something on the calendar. Whether its small weekend adventures like bike rides near and far, farmers markets, pumpkin patches or apple picking, we want to embrace the opportunities given to us right here in this region. At home, we love a good eats, an impromptu dance party (actually more of a competition), corny jokes, clowin' around, working on fun projects or finding the perfect movie to just chill, relax and hang out as a family.
Our Home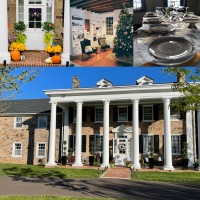 When we bought our 200 year old house, we did it with the intention of fixing it up and creating a place of belonging, where we could connect with our large family made up of both relatives and friends. Today, we love being that family hub where 'our people' come to make memories that we hope will last for generations.

While we have plenty of room, everyone crowds into the kitchen to see what dish might be in store. With a multicultural family, its anyone's guess. But tear-filled laughter, cousins stealing treats, and siblings cracking jokes is a certainty.

Best of both worlds:
* we live in a popular town filled with great schools, family-oriented activities and tons of amenities
it's safe and tranquil.
*we are right off the mainline so we can always get into the city.
*all the conveniences of being in a neighborhood but out our back door - we have 2 acres along with a rambling creek for the kids to explore.
Majdah is the magic in our family. She's my curvy goddess with an infectious smile and heart of gold. She's creative, has a wicked sense of humor, and brings love and light into every room she walks. Watch out, she just might break out in comedic song - she can be a total goofball. She's at home with people from every background and believes that we have more in common than we have differences. Most people who know her don't think there's a nicer person on earth. The way she walks through life is the best way to teach our kids how to leave every situation better than how you found it. Her mantra in life - "if you can be anything in life, why not be kind?"

While she's kind and compassionate, she's a lioness when it comes to protecting and advocating for our children. She's playful but firm. Teaching them to be good human beings who are mindful stewards of the earth is paramount. But she also wants their childhoods to be magical; they only get one chance to be kids.
I knew immediately that Diallo was different. He was smart, ambitious, and hilarious, not to mention tall, dark, and dashinglingly handsome. He's often quiet at first, but don't let that fool you as he will have you in stitches with his jokes, impersonations, and dance moves. He's ridiculously athletic – you might even catch him on a skateboard or a pair of roller skates.

He's incredibly smart, but as modest as they come. When others boast, he is humble. I have to twist his arm to talk about his achievements (two advanced degrees, bronze stars...don't get me started). He gives to those in need and takes little credit. He's the guy that will do what's inconvenient for him to make others' lives easier. In all our years together, whether personal or work, he's never lost his cool.

He's quite the planner and regularly overpacks for our adventures and camping trips. He likes the classics when it comes to Kung Fu movies, rap, rock and cars. He finds the most thoughtful gifts, remembering peoples' passing comments about their interest and likes.

At home, Diallo is our protector and our steady. He is patient, kind and always finds a way to turn tears into laughter. As one of 14 kids, Diallo is the sibling that keeps the others connected and the child that looks out for his mom.