Our Story
We started off very typical for two gay men dating in the NYC/NJ area. Having some appetizers, conversation and next thing we knew we couldn't get rid of each other!
In our defense, we had a great connection. We laughed for hours. And, if we remember correctly, way before our first date was over, Nick already had asked for a second date. It was the beginning of Spring 2013, we both worked in Manhattan, lived in NJ, and took advantage of the weather and the shared enjoyment of just being in the city. The more things we did together, the more we connected.

Laughter has always been at the core of our connection. Our sense of humor, our understanding of sarcasm and the ability to find humor and joy in various situations was something we both knew was rare to find in someone else. Even through difficult times, we use laughter and love to triumph through. Besides the jokes, we both continued to fall for the man we would one day call "husband."

Over all the years together, we live for our adventures; whether it be vacation or a day trip or Saturday errands. We both love traveling and that could be anything from the ski slopes to the beach or from Disney World to Europe and all stops in between.

We also share a love of animals. We have two rescue dogs at home, Reece and Pope, and we are content just cuddling them, playing in the backyard, and extended walks around the neighborhood.

We spend most summer weekends at the Jersey Shore relaxing from the long week. We have to mention again that being physically active is a part of our daily lives. Being together has made us even more so because we have someone to share our passion with and push each other.

For us it's about having a good time and that includes things like hiking, skiing, biking, running on the beach, swimming, walking a new town for hours, or a day at the beach!


Our Home
We have endless conversations about how having children to give to and share these experiences with is the only thing missing. We are lucky to live in an area of NJ that we do because it is a city with suburban feel and has family close. Our town has the benefit of being close to NYC but also many huge parks, athletic fields, great restaurants and other activities. Living here awards us other luxuries like short drives to beaches, mountains, amusement parks, theaters, museums, sporting venues, and a ton of different cultural communities.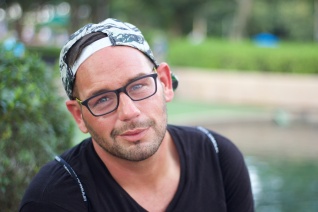 Born and raised in NJ, I have been fortunate enough to be able to experience everything from growing up in a city, spending time in the mountains and at the beach and everything in between. Graduated from college with a degree in marketing and I have spent most of my career in corporate retail. Being physically active is something that is important to both of us and I make it a goal for 30 minutes everyday of doing something to keep my mind and body right. Besides a love for the work I do as a Director of Buying, I have been blessed to be passed down a huge love of music and concerts, creativity, travel experiences and most importantly laughter. One thing I didn't get was a love for cooking. Don't get me wrong, I have tried it and can make some dishes (mostly soups), but I just don't see how people love it. In fact, some may even say I keep sweaters in the oven for extra storage. I do bring cleaning to the table and to the next level. I find it relaxing to clean and redecorate a room for hours. If there was anything I could do for the rest of my life it would be just to laugh. I am usually one of the funniest people in the room and think it is the best medicine!
I love school! I not only graduated from college with a English Literature degree, I also attended and graduated from Law School and passed the bar in several states. When I am not working in exciting world of corporate Insurance and Malpractice Law, I have a love for photography. I not only enjoy taking pictures but I love the editing and art behind it. I love to also explore new creative activities like crafting or learning how to do different activities around the house.
Unlike Lou, I love cooking and baking. He would say I have come a long way from one of our first dates where I may have over cooked the chicken. I am also a big fitness enthusiast and, like Lou, I do something active every single day. My favorite activities are lifting weights, running and biking. I usually do combinations of all the above on any given day of the week. When not doing any of these things you can find me relaxing watching horror movies and laughing with my Husband every chance we get!