Our Story
Although we both grew up in New England, we didn't meet until 2015. Julia was hard to pin down as she was off working in conservation medicine in various states. Matt was busy playing with DNA in the lab and hosting pub trivia. When we finally did meet, we fell in love quickly and absolutely, bonding over a similar sense of humor and love of language and science. We also shared values like treating everyone with kindness, giving back to the community and living sustainably. Our first date ended with us sailing paper airplanes; other dates included making up a silly high-five for improv night, escaping a puzzle room and hiking the Inca Trail (that was a really long one). We've been married for 6 years and we're still having fun playing together and leaving room for the occasional adventure.

Julia works as a relief veterinarian and Matt works in a hospital lab- both of which have flexible schedules, allowing us to put home and family first. Matt's parents live in nearby Narragansett and are always happy to help out. After welcoming Isaac into our lives, we knew we wanted to experience the joys and challenges of parenting again. Julia had looked into adoption as a single woman and many of Matt's family members are adopted. Adoption is a natural and exciting choice for us.

We get outdoors in every season- sledding, berry picking, going to the beach, visiting farmer's markets, camping and hiking. Days at home are filled with cooking, reading, listening to music on the porch, gardening and walking the dogs. Traditions are important to us- each holiday has its own little rituals and foods. There is an annual fall Abby's House walk and spring IncredAble 5k that we always participate in. Our weekly family night revolves around cooking a new recipe, banging on instruments and singing off key, playing a board game or watching a movie. Isaac would love a sibling to play "Monkey Around" or "Snail's Pace" with! We look forward to making new traditions with a little one based on their background and roots!

Most of Matt's large extended family lives within an hour drive and, though his siblings live in other states, they visit often with their families. Julia has a wide network of friends but they are more scattered. All of our family and friends, both near and far, already dote on Isaac and are looking forward to loving another little one. We have a strong village around us; your little one will never lack for family and friends to have fun with and rely on.

Our Home
We bought an older home when we were expecting Isaac and it has lots of charm. It's a work in progress but don't get us started on how far we've come! With the help of Matt's parents and DIY videos, we've refinished the floors and rebuilt the stairs, just to name a few things. It's finally at a point where it feels like a home. This year, we'll finally start a vegetable garden.

Our house is on the corner of a busy street and side street that feeds into a quiet neighborhood. There are lots of kids riding their bikes and playing ball with each other. We also have a small block party every summer. There is a park just a few blocks away. It has acres of trees and several small ponds as well as an awesome playground. We spend many sunny afternoons there, walking the dogs, flying kites and chasing Isaac around the playground.

Our neighborhood is in a family-friendly suburb just forty minutes outside of Boston. We look forward to benefiting from the good school system and already enjoy our local library often. Our town has a annual parade, town fair day, and holiday celebrations. The lit-up pumpkins in the park's Halloween festival are a sight to see!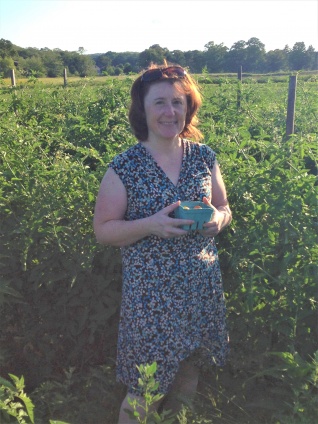 Julia is my true companion; there is no one I'd rather journey through life with. When I met Julia, I was drawn to her quick wit and friendly personality. Depending on the situation, she has several different laughs or can elicit them from others with a good joke.
I've always enjoyed our deep conversations- our first date was just for lunch and we talked for three hours! Julia considers other points of view with respect and sensitivity and shares careful thoughts of her own. She always wants to know more- whether it's a good recipe to try for dinner, a new trail to hike, or what I think about college savings plans.
Teaching a love for learning and nature are high on her list. Isaac enjoys hearing what kind of animals his mom saw at her work as a veterinarian, and they delight in spotting the birds and other animals we see outdoors. Julia has made sure creative, fun play is encouraged too- rainy days have led to all sorts of indoor obstacle courses and couch-cushion ramps for any toy with wheels.
She brings confidence, patience, and lots of love on her path into motherhood, and shows every day that it is her highest priority.
Matt is the one who reminds me to have a little faith and optimism and to make things a little special. He is someone I can be completely myself with, quirks and all. The man pays attention to everything! On one of our dates, I went to a trivia night that he hosted and he had designed an entire round where the answers referenced random details of my life. Matt often presents people with unusual but thoughtful gifts that are perfect for them; his attention to detail makes everyone in his life feel special.

Whether it's deftly creating a well-balanced meal from cabinet leftovers or making sure we are fully prepared for any eventuality on a trip ("fully prepared" = a set of batteries for your batteries), he is a partner I can always rely on for support and fun.

As a father, Matt encourages Isaac to be inquisitive and try new things. He taught him how to blow raspberries, sings to him with his guitar and helped him plant a blueberry bush in our yard. Matt's laboratory science background comes in handy at the strangest times: once, he whipped up some bubble solution after we spilled the one we were using! I can't wait to see him with another son or daughter, doing things like improvising silly lullabies at bedtime and digging in the dirt for worms.