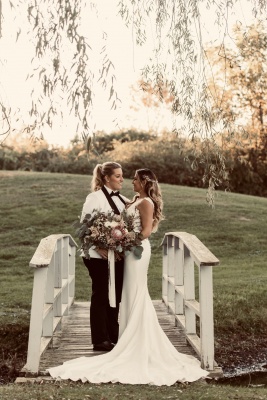 Our Story
10 years ago fate brought us to physically walk right into each other and the rest is 3 dogs, a beautiful home, an amazing toddler and now the dream of expanding our family through adoption.

From the moment we met we just clicked, we were drawn to each other and we've been laughing ever since. Life is worth living because we fit perfectly in the places the other lacks, and as one we are whole.

Our life together is everything we could've dreamt of, and more because we believe in one another. We push each other to be the best versions of ourselves and we love each other more each day. When we talk we actually listen, we work through hard times as one not separately and we live up to the vows we promised each other every day.

Family is the most important thing to both of us. Not just our immediate family but our blended family of heathers and mine that brought a MASSIVE group of people together through love. Holidays are our favorite, our home is always decorated no matter what holiday and the door is always open to our chosen family and the house always smells like italian food.

Summers are spent in our pool, bbqing with the family every weekend - Winters are snuggled up on the couch, and playing in the snow -- Autumn we're at the pumpkin patch and baking apple pies --and the Spring is for planting veggies in the garden and going on easter egg hunts with all of our best friends and their families.

Love and Support from our family have been the two main reasons why our love has had the opportunity to thrive the way it does. So our job is love our child and every child we are blessed to call ours as unconditionally as we have been loved.

Our Home
We live in New York just 30 minutes outside the Big Apple!

We just recently purchased our forever home, and it's the perfect location between both of our very large families to be together frequently. It's so rewarding to have both sides be as involved with our children growing up as possible. Children's gyms, a 9 out of 10 for the scholastic rating from pre-k to high school and a neighborhood with SO many young children; to us our house is a home<3

The joke is that our house is the "Holiday Hub." Every single holiday is hosted in our home, as well as we pick 1 holiday outside our religion to appreciate and experience cultural diversity. It's SO much fun!
Meet Heather. I'm a female street artist and i love being the creative entrepreneur and working partner in our family.

Support to me, doesn't just mean financially, it means emotionally as well. There is literally nothing I won't do for Christen as a partner, for Freya as a mother, and the fur babies as well.. a fur mama!

Christen best describes me as the calm, protective and hysterically funny parent.

Fun Facts
* I am one of the only female street artists sold in galleries, in a male dominated industry (breaking glass ceilings!)

* Just like Christen, I am also an only child - so having a big family of our own is so important to me as well. My mother is 1 of 7!

* Cooking is a way i escape in a positive way, I'm always creating in my mind and each meal is a form of art to me. Plus is my chicken parm is the best!

*Christen loves to read, and i love Television, Horror Movies specifically i could watch the same cult classics over and over


Extra Fun fact: even though we are legally married, I adopted freya shortly after she was born. We cheered with the judge with all our loved ones around us as I signed the papers and became Freya's second legal guardian.
Hello everyone I'm Christen! I'm the stay at home mom of the family and i've devoted my life to loving my wife the best way i can and raising Freya ( and of course every baby in our blended family that will come to us in the future)


I wear many hats on a daily basis - one part of me is i'm the full time coco-melon singer, the teacher, the chef, the family calendar, the decorator, aka Full Time Mama mode!

the other part is i'm a loving wife, warm hearted, empath that always is prepared when you need something. Whether it's something as small as a tweezer or a pair of socks; my "Mary Poppins" bag" never fails in an emergency!

Fun Facts:
* I have my MA in Substance Abuse Counseling or CASAC degree.

*I love getting lost in books whenever i can.

*The biggest animal lover you will ever meet and i've always been involved in helping animals in rescue situations.

*Singing is the way i cope. If i'm having a hard day i really like taking long drives and singing my favorite songs to help ease away the troubles the day may be bringing.

*My favorite thing is probably event planning and bringing a Pinterest board vision to life

*I'm an only child, which is one of the reasons i want our home to have lots of little ones in it!


Mommy Quote:
I have always wanted to be a mother, since i was young. My mother and i have such an amazing bond, i couldn't wait to have the opportunity to pass down the lessons she taught me to the next generation. Personally, My godmother adopted my cousin through the same adoption consultant we are using so it just feels meant to be!