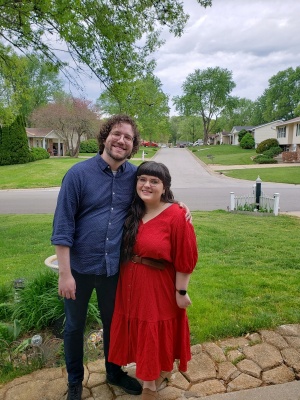 Our Story
We have always known that we wanted to be parents together and adopting a child was one of the first things we discussed when we began dating in 2014. Growing up, we were both close with family members who were adopted and we have such love for them and respect for how they came to be a part of our family. As a result of knowing adoptees and our own life experiences, including Stephanie learning pregnancy would be dangerous for her, adoption is something we want for ourselves and the child we will be fortunate enough to adopt. We are so excited about the possibility of adoption and look forward to bringing so much love into a child's life someday soon.

We promise that your story, sacrifice, and your love will always be known and shared with your child; you will always be a part of their story and we will forever be grateful to you.

Your child will always have our unconditional love and support and be respected for who they are. They will be encouraged to follow their dreams. We will create a safe space for them to grow, learn, and flourish in life. We will provide endless opportunities, will listen, and help guide them to whatever goals they may pursue in life. We promise that your child will also have the love and support of our family and friends who cannot wait to welcome a child with open arms.

Above all, we promise your child will be treasured and celebrated as the wonderful person they are.
Our Home
Our home is an inviting and warm space in East Nashville, Tennessee.

It is often filled with friends and family gathering for a meal or fun holiday celebrations. Our home is spacious with plenty of room for different activities such as hosting dinners and holidays, having movie nights, doing hobbies and crafts, or a cozy night by the fire.

To be in the center of it all, we spend the majority of our time on the main floor of the house in the kitchen, open living room, and large screened in porch by the garden.

Nashville is a culturally rich city with tons of music, art, and great food as well as beautiful natural surroundings. We live walking distance to one of Nashville's greenway parks which are scenic and peaceful and are also close to the schools which often win awards and have interesting programs like a farm-to-school program.

East Nashville as a community is one of the most accepting, diverse, and inclusive neighborhoods in our city. We both enjoy being involved in our community, from joining the neighborhood running club to helping with organized clean-ups.

Our neighborhood is very safe and quiet and there are many shops close to home which is convenient. There are also a number of young families on our street and fifteen children ranging in ages from infants to10 years old. All of them are so looking forward to welcoming a new playmate! Our neighbors frequently get together for events like cookouts and to just hang out outdoors on a nice afternoon, enjoying each other's company and watching the kids play together. We cannot wait to experience these get-togethers as a family of three.
Steph through Erik's Eyes:

Stephanie is the most caring and positive person I have ever met, and she inspires me and those around her to be a better person. She works in her dream job as a Doctor of Pharmacy in non-profit healthcare, working to help individuals and their families in a very difficult period of their lives. Stephanie's job is flexible and she works from home most of the time to support her patients through telehealth. While her work is very serious, Stephanie is very fun to be around and is one of the funniest people I know. When she is not working, we enjoy gardening together, taking our dog on hikes, and making delicious food together.

Stephanie is someone who is trustworthy, honest, and is always there to support others. She is incredibly book smart but also has great emotional intelligence as well and is able to know what people need.

I am so excited to have Stephanie in my life and to be part of this journey together. She will be a wonderful mother!

Stephanie's Hobbies:
-Baking delicious and healthy treats
-Making home-made candles with lovely scents
-Home design and decorating
-Painting, watercolors, and doing anything creative
Erik through Steph's Eyes:

Erik is a real hoot to be around and a wonderful person. He is funny, kind, and cares deeply about everything and everyone. We love singing together and making up silly songs about our life to make each other laugh. He often makes life fun with his goofiness, but he is also a strong person to turn to for support in times of need. Erik brings joy to those around him and goes out of his way to care for his friends and family. His sincere kindness, playfulness, and strength are all qualities that will serve well as a parent.

While Erik is humble, he is also very smart and is the first of his family to get a college degree. He is always learning something new and willing to teach others. While his intelligence has led him to a high-ranking career at a large financial company, he is able to have an exceptional work life balance with his work-from-home schedule.

Erik is a great partner and I know he will be a loving and supportive father one day. I love him so very much.

Erik's Hobbies:
-Cooking homemade meals - he is great at southern food as well as fancier French dishes
-Bee Keeping - yes, this includes lots of honey to take home
-Reading to unwind and to learn something new