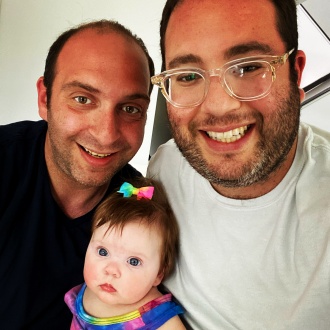 Our Story
We hope that in reading this letter and looking at the special times that we have shared, that you have some sense of who we are, and what a wonderful relationship we have. We know that if we are fortunate to adopt, we will love this baby unconditionally. It is our intention to express to you that our relationship is based on trust, love, support, encouragement and honesty. Our family will grow with these same values.

We are excited about this new phase in our journey together and look forward to bringing another child into our love and our life. We have a wonderful extended family who will give so much love to this child as grandparents, aunts, uncles and big cousins! We are honored to be considered as adoptive parents and would love the opportunity to meet with you.
Our Home
Our home is full of love, laughs and a ton of fun! Tatum's favorite room in our house is her play room. She is so excited to have someone to share all of her toys with. Our neighborhood is a private community that consists of 100 homes with a lot of young families, tennis courts, pool, basketball courts, playground and walking distance to shops, restaurants and parks. Tatum has already made friends with our neighbors kids and loves walking around the community.
Rob is determined and a hard worker as well as being a loving, caring and encouraging partner. He works in the food and beverage industry. He is the most genuine man I know and puts others' needs above his own. When it comes to family, no favor is too big or small. He would go to the ends of the earth to help a family member, and will always make time to be a supportive brother and son.

Rob enjoys working out and and pushing physical limits. Some of his favorite things to do while we travel is try new foods from different countries. Above all else, he is the most incredible father. Tatum and Rob have such a wonderful relationship. He loves taking her to the part and reading her bedtime stories. He cannot wait to be a father or two!
Dan is the most thoughtful and caring person I ever met. He is a recruiter for the technology industry. Dan is easy going and loves to laugh! His family and friends know they can always count on him.

Dan loves to play tennis and stay active. He is naturally curious. His curiosity has led him to travel the world and explore different cultures and environments. Dan is genuine and caring in all that he does. He absolutely adores Tatum and they have a connection like no other. He loves taking her to music class and watching her play with her friends. He is a great dad and looks forward to the growth of our family.