Our Story
Our first date was in 2015. Our connection was instant, but the restaurant that Luiz picked was a mess. Neither of us ate much so we decided to go get ice cream and Besima happily picked the place. The date was over 4 hours and landed Luiz an expired meter parking ticket.

We lived over an hour drive from each other so we moved in together within a few months of that first date. Our relationship progressed quickly because we knew the other was special. We got married in 2017. The ceremony was in a botanical garden and the reception in a historical museum. Unconventional like us but surrounded by love, friends, and family.

We found out we were pregnant after trying for over a year. Days before the end of the first trimester we had a miscarriage. It was devastating but our desire to start our own family was greater. Doctors recommended In-Vitro Fertilization (IVF) for our best chance to getting pregnant. We went through three IVF cycles but we could not get pregnant.

The ups and downs of the IVF process took a toll on us mentally. The medications and hormones took a toll on Besima's body. Through it all our relationship grew stronger than ever as did our desire to start our own family. Other doctors reviewed our case but had nothing different to offer. Not willing to go through IVF again we started learning about adoption.

We made the decision to adopt with open hearts. Knowing it will be challenging but ready to share our love and our lives.

So we thank you again for taking the time to thumb through these pages. We are so very grateful.

With Love.
Our Home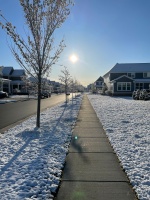 We built our dream home in 2019. Our house has 3 bedrooms, 3 bathrooms and 2 bonus rooms. We have a beautifully landscaped yard with a white picket fence. We reside in a safe and highly ranked school district. One of the neighborhood playgrounds is just a short walk away.

Our neighborhood is filled with children and families riding their bikes, walking their dogs and playing outside. It is especially vibrant during holiday season. Exquisitely decorated homes serve as eye candy during December. The most epic decorating efforts are reserved for Halloween. Residents here go all out. We have hundreds of trick-or-treaters.

The farmers market, theater, ice cream shop, and local restaurant are within walking distance or a short bike ride away.

We have a great support system of neighbors and friends where we get together often. Our neighbors are the best and can truly count on them if we ever needed anything. Our neighborhood block is full of caring, diverse families, who support each other, spend time together, look out for each others safety and houses, while creating new traditions together, such as an annual 4th of July block party and regular pizza block parties in the summer.
(Written by Luiz) Besima was born in Bosnia and Herzegovina, which used to be part of Yugoslavia until the early 90s. (Don't worry, I had to look it up in a map too. It is east of Italy across the Adriatic Sea.) She grew up in a small rural town on the north-west of Bosnia near Croatia. She was always good student and arts was her favorite subject. Her father worked in Germany and later in Bosnia as a train engineer. Her mother stayed at home taking care of Besima and her younger brother while tending to the garden.

The Bosnian War started In 1992 when Besima was 14. Her father, many relatives and friends were killed in concentration camps. Besima, her little brother and her mother left their house and everything they had behind. They spent some time in a concentration camp but were allowed to flee to Croatia temporarily. Their house and possessions burned to the ground, but in 1993 they were allowed to move to Hamtramck in Michigan.

She didn't know any English but took classes at night after school. As her English improved, she beganhelping her family and other refugees. She would spend hours in line with someone to help them through a doctors appointment or interview. Besima worked multiple jobs to pay for college. She got her Bachelors degree, a Masters degree and bought her own condo. Today she is a successful professional and is very close to her family.

With all the tragedy she's experienced and the horror she's seen, I would expect her to be angry, bitter and suspicious of everyone. Besima is the absolute opposite. She is a happy woman who sees the best in people. She doesn't dismiss what she went through, she worked through it. I admire her immensely. I am unbelievably lucky to have found her.

Besima learned how to cook from her grandmother and mother. She's an amazing cook! She doesn't follow recipes unless she's baking something new. I open the fridge and see nothing in there. She opens the fridge and within no time we are eating something delicious. Breads, pasta, chicken, desserts oh the desserts she and her family make. Besima really has a talent for it and for planning and hosting parties.

Besima is involved with several charity organizations, she's a giver. She's been mentoring high school girls in Detroit since 2012. A couple years ago she was nominated mentor of the year by her mentees. She keeps in touch with most of the girls even with her very first group.

I know Besima will be a good mother with so much to share and love to give. Hopefully you too will have a chance to meet her and be reassured your child will be loved forever.
(Written by Besima) Luiz was born in Brazil, where he grew up with his parents and one older sister. At the age of 17, Luiz came to United States as an exchange student in his senior year. He expected to return home after graduation but in a college fair at the high school he applied for college. After getting accepted to Michigan State University, his parents were very supportive of him staying in the U.S. to further his education.

Luiz has been on his own and spent many holidays, birthdays, and special occasions without his family. This has only made him want his own family even more. He is hands down the most caring person I have ever met. He is always ready to help my mom, whether it be remodeling her rental unit, helping around her own home or helping her with little things like explaining how to use her phone. I love how he is so gentle with my nephews.

He has seen me through some of the most difficult times in my life with strength and grace. During the IVF treatments, he was there every step of a way administering my medications, logging my doctor appointments, doing house chores, and taking care of our dog Sparty. I could not have been able to get through the hard times and heartbreak of miscarriage and several unsuccessful IVF cycles without him. He is my rock!

Luiz's compassion and kindness toward others is something I admire and love about him. He always treats others with respect and is a true loyal friend. I love how much be believes in me and how he always encourages me to do my best and never lets me settle.

He commits to things 100% and will always be there for you no matter what happens. I cannot wait to watch he be a father to our children. I know he will support them in everything they do, he will be a fierce advocate for them, and will love them more than anything in this world.