Our Story
We love to live life as full as we can! We have known each other since high school & reconnected in January of 2012. We then made the choice to rekindle our relationship and were married in September of 2013!

In 2016, after walking through infertility, we began our journey of adoption that led to us being chosen by an amazing and brave woman who changed our lives and our hearts forever. Our daughter, Amelia was born in May 2017 and everything changed!

We both work in real estate with Mike focusing more on the investment side and I deal in the residential aspect. We love what we do! Not only do we get to join people on their journey to find a place they will fall in love with and where they will raise their families, but it also provides us with flexible schedules that allow us to spend our time how we choose, mainly traveling and spending time with our families and our 12 nieces and nephews! We love the outdoors and physical activities. Going on family walks and bike rides is always a favorite passtime, especially Amelia's! We are runners and love running races together and hiking. Adriane's parents live in Florida so we enjoy escaping there in the winter. We also have a family lake home in Northern Michigan where we enjoy lazy summer days and white Christmas'! We love spending time with our sweet Deborah! She is our rescue dog that we adopted just before we were married, 8 years ago. She loves children and is a huge lover!

We are super involved in our church community as well and help to lead a recovery ministry that helps others navigate through the hurts and hang-ups of life. It is incredibly humbling and rewarding to walk alongside others as they find hope and healing. This is a true passion of ours and to be able to do it together, is truly a blessing!

We are so humbled that you have chosen to read about us and hope to be able to make you and your little one part of our story.
Our Home
We just recently moved to our forever home, large enough to grow our family and more! We are so excited to share our home with family and friends. Our neighborhood is filled with families, tons of kiddos & great parks! We are surrounded by trails & nature yet only 45 minutes from Detroit city life and a mile from a fantastic downtown area filled with parks, restaurants and shops. Every time we walk outside of our door for neighborhood bike rides and walks on the trails, we are reminded of why we moved to this great community and are filled with gratitude!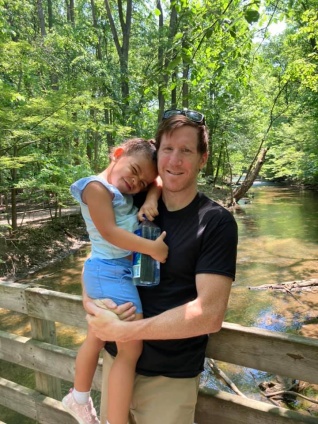 Mike is the rock of our family. He is calm and steady in all things. He is a great listener and always very thoughtful of his words. He is an adventurer who is not afraid to pursue his dreams. He is always seeking fun things to do and wants to always be a part of the fun! He is hands on in all aspects of our marriage which makes our partnership thrive!

It is these same traits mentioned above that make him a great partner, that also, make him a great parent. His calm approach to Amelia and love to be a part of everything she is doing, makes him a great dad!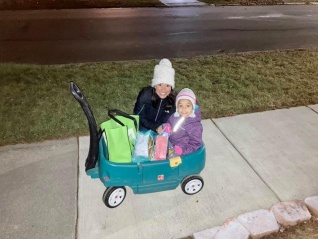 Adriane is compassionate and kind. She has a calling and a passion for helping people, especially those who are struggling with addiction & mental health. She has a warmth and understanding that attracts people to her. She deeply loves, encourages and cares for her family. The most important thing to Adriane is her relationship with God. Her faith is strong and unwavering and guides her in everything that she does.

She has seemingly unlimited amounts of energy and enthusiasm which shines in how she interacts with Amelia! Adriane applies all of the above mentioned to motherhood and to watch her grow every day as a Mom has been fascinating!