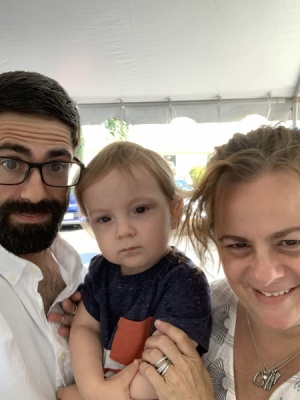 Our Story
My family consists of my Mom, Dad and younger sister. My sister is married and is the Mom to some of my favorite people, my 2 nieces! I love, love, love my nieces, we have a lot of fun together. Before COVID we had annual traditions of shoe and sneaker shopping for school and getting stomach aches from going to the end of summer fair and eating too much junk food!
I am a strict vegetarian, no one else in my family is, I don't preach it, it's just my belief. I love animals, we are working to buy a farm so we can have rescue animals and preserve a bit of land. I cry when I see farms being turned into housing developments, the farm can be a place where we live, work and help animals in any way we can.
Mike and I partner with and support a couple of neighborhood programs near our restaurant that help kids in need. I wish there wasn't a need but if you are able to be part of the solution, then you need to help, big or small, we all need to look out for those who can't take care of themselves....animals and children are at the top of the list of those who need us.
My husband and I met 15 years ago at work. We dated and were engaged for 8 years and have been married for 7, we both love dogs, our families, going to new places, eating out, and just being at home with "the fam" (as we refer to ourselves:).
I feel like I've practiced being a Mom through my work as a manager. I've been fortunate to have longevity with my staff and I often work with them from age 16-25 and I become their Mom, counselor and coach, at work. It's rewarding to see and be a small part of their development and watch them grow into amazing adults.
Mike and I are fortunate to love what we do, we never drag our feet going into the restaurant, we work with 2 people who have been working with us for 15 years, when we go into work, it's like being with family there too. We are most proud of the relationships we've made through our work. The restaurant allows us to help a lot of organizations and programs in our community, we are thankful for that ability.

Our Home
We live in a great residential neighborhood, you can walk for hours (literally) and not hit a traffic light, it's a really big area with lots of kids, we can walk to a park that has rock climbing walls, basketball and tennis courts, there's even a baseball field.
We live in Upstate NY and enjoy the change of seasons. It's a beautiful area, we enjoy boating at the Lake house in the summer months and skiing in the winter months, we love being outside and doing almost anything.
We are 3 hours to the City or to Canada, allowing us to visit both places several times a year with just a quick car ride.
The most important part of where we live is that it is 10 minutes to my Mom and Dad's house as well as my Sister's house so we get to see each other 3-4x a week.
Hi,
I enjoy playing on the floor and making up games and tents, walking to the park or kicking and throwing the ball in the backyard. We have fun at Mom and baby swim lessons every week. I look forward to what each new day brings in our house :)
I write my schedule so I only work 20hrs a week so I can spend as much time as I can, home. I don't have to go in, but to keep me in the adult world, it's a good balance. My family or Mike's babysit for those 20hrs/week, neither of our families have never needed daycare services because we live so close to family, we are thankful for their help. We love seeing them with John, he loves his extended family.
I am a very transparent and open person, I like to do thoughtful things and randomly surprise people I love.
I enjoy everything cooking, I read about cooking, I am a Chef and I teach cooking at our local community college. I enjoy reading, cross fit, hiking, and traveling. COVID has kept us home more than normal but we've managed to get some trips in.
I love spending time with my Son and being home with the whole family. Even though I enjoy what I do, I like my days off most. We always have a project going at the house that keeps me busy and I enjoy doing carpentry work so it's a win/win.