Our Story
We met in 2010 on a scavenger hunt at the University of St. Thomas, where we both went to undergrad. We started dating two months later. Fast forward to 2015, Taylor proposed after a scavenger hunt on a beautiful hike at a state park. We got married in May 2016 and moved to Boston three days later so Brittni could go to nursing school! We loved Boston but moved back to Minnesota to be near family as we now start a family of our own.

We have a dog and a cat: Douglas and Minerva. Douglas (Doug for short) got his namesake from the Disney movie Up! He is a sweet and goofy six year old Collie/Corgi mix. He loves squirrels, and the voice we give him sounds just like Dugg from Up. Minerva AKA Minnie was a gift from Brittni to Taylor for Christmas. She was named after the Professor Minerva McGonagall in the Harry Potter series. She is a cute and cuddly kitty that loves to play with us and her brother Douglas!

Our love for Harry Potter cannot go without mention! As we said, our cat's name is Minerva McGonagall and we love to dress the animals up for Harry Potter photoshoots. We love Harry Potter World in Orlando, and to top it off, we went to London for our Honeymoon to see the Harry Potter and the Cursed Child play. One by one, we are gathering the illustrated Harry Potter books to read to baby as they grow up!
Our Home
We live in a quaint and diverse neighborhood near St. Paul, Minnesota with our beloved dog and cat. Our yard is an oasis of botanics—something new blooms every season. Our neighborhood is a close-knit community. The neighborhood children run from one yard to the next climbing tree houses, riding bikes and playing at the park down the street. We can't wait to add baby to the mix!

In Our House:
We believe Black Lives Matter.
We fight for social justice.
We advocate for others.
We love and treat all humans with respect.

Work + Play (Mostly Play)
Taylor is an Automations Engineer for Target by trade, but his degree and passion is in Robotics Engineering (we told you we were nerds). He uses his home 3D printer to create and design all sorts of trinkets. Brittni is an Infection Prevention nurse at the University of Minnesota. We are both fortunate to have a very flexible work schedule and prioritize family and travel above all! In our free time, we love to travel the world, socialize, go camping, hike, go boating and surfing, golf, ski, and play board games.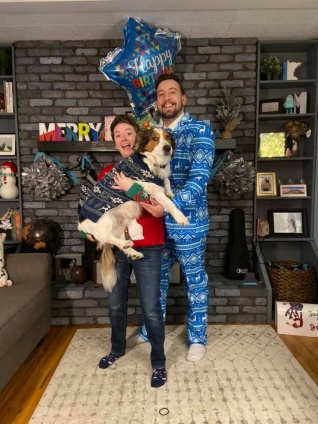 We love a good celebration! Whether it's going all out with Halloween costumes (we promise we did not mean to predict a global pandemic with our 2019 costumes!) or programming a Christmas lights show to music, we believe that celebrations are the foundation to long-lasting memories!