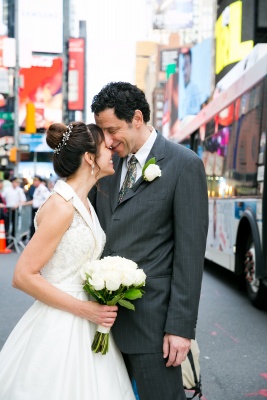 Our Story
We met in June of 2016. At the time, Lori was living in Washington, D.C. Her job started requiring her to be in New York more and more often, so she decided to get an apartment for a couple of months. She went straight to the internet and found just the place–a fifth-floor walkup apartment in a colorful Manhattan neighborhood. A guy named Joe was renting it out, looking for a tenant who would take extra good care of it. Within hours of seeing the ad, Lori found her way to the neighborhood to check out the apartment. The place was perfect–not too big, not too small, big windows, and plenty of sunlight. There was just one important step that stood between Lori and renting the apartment she hoped for: approval from the head of the apartment (co-op) building, Steve.

Steve lived on the third floor. Intent on meeting Joe's prospective renter, he planted himself outside the building on the afternoon of Lori's visit, hoping for a chance to say hello and figure out whether she would be a responsible tenant and neighbor. Steve told Lori about the building, the neighborhood, himself, and his family. He told her about the fun things his family did together, such as the bicycle trip they take together every year. Lori told Steve about herself and her family, too, as they stood outside that afternoon, meeting for the first time and taking it all in. Within weeks they were dating, dancing, and laughing together on a regular basis.

Fast forward sixteen months. Steve and Lori again found themselves standing outside together on a sunny New York afternoon. Only this time, they weren't alone. This time, they were standing in front of a gathering of family, friends, and loved ones. They were married in Central Park in October of 2017. Lori's landlord, Joe, was the best man. To this day, he likes to tell anyone who will listen that his apartment was responsible for one of the best matches of all time.
Our Home
We own a bright, spacious home within walking distance of good schools and church, with a park right across the street. One of the best parts of our building is the fourth-floor deck, which includes a playground, as well as picnic tables and grills. Families congregate there regularly to hang out, have meals, and to give their children a chance to play together. Many families with small children live in our community. On our floor alone, there are at least five children under the age of five, as well as lots of other nice people, such as our next-door neighbor, Phyllis, who often bakes cookies and brings them over to share. The building is pet friendly too, and there are always pets who are ready to play.
Lori was born in a small town in rural Wisconsin. She comes from a big, happy, Catholic family with six brothers and sisters and seventeen nieces and nephews -- and six of them are adopted. Her family enjoys playing music and board games and spending time together as much as possible. Her parents have been married for more than 50 years!

Steve was born in Brooklyn and comes from a fun family that loves to cook, eat, and get together whenever possible. Steve has a sister, a brother-in-law, and two nieces. His parents regularly volunteer at the soup kitchen where he works. Steve's parents have been married for more than 50 years, too!