Our Story
Hi! We are Leah and Ross, two open, honest, and adventurous souls looking to fulfill our dream of raising a child in a home filled with warmth, safety, and laughter. Leah is a wedding photographer and Ross is a lawyer, but it is really our love for our friends, family, and neighbors that defines us. When not at work, you can find us in our backyard garden growing vegetables, spoiling our nieces and nephews, or exploring the beautiful outdoors.

We met in Washington, DC in 2011 at a mutual friend's birthday party and knew pretty soon after we had found something truly special. Shortly after we met, Leah moved to Nashville and we began a year-long, long distance relationship with Ross flying down to see Leah, trying to convince her to move back. Ross succeeded - but we promised each other we could both move back to Nashville one day soon. In DC, we began to build our lives together. We adopted our first dog - Ruby - and even built a small organic farm outside of the city where we grew vegetables for our neighbors and friends.

In 2016, five years after we first met, Ross proposed on the top of a mountain in the Shenandoah Valley, and Leah said yes! Shortly after, Ross fulfilled his promise to Leah and we moved to Nashville and purchased our first home together. A year later, we were married by our best friends, surrounded by 130 of our closest friends and family. More than ten years after we first met, we are blessed to live in a close knit community surrounded by so many friends and family members

Together, we have been through ups and downs - and so we know we can handle whatever the future brings our way. We know we can count on each other and the people in our lives when things are hard, to lift us up, and when things are joyous, to celebrate.
Our Home
When we moved to Nashville four years ago, we did so not because we had to, but because we wanted to. We live in a quiet, safe, and loving community just two miles from downtown. Our neighbors are our friends and trusted advisors constantly looking out for us. We love our daily dog walks, listening to live music, and sharing laughs with friends on our front porch. We purchased our home in 2017 - a restored Victorian home with a nursery already set for a future child.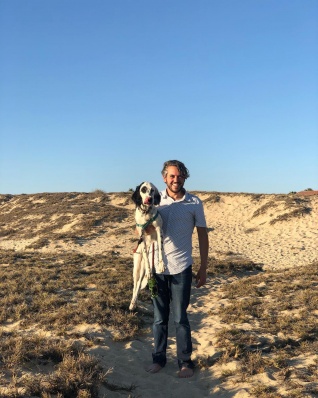 As one of four children, I am most at home in a house full of laughter, good conversations, and delicious smells coming from the kitchen. Most of my family is still in Ohio and we visit often to be surrounded by dozens of cousins, aunts, uncles, nieces, & nephews. I deeply enjoy gardening, cooking for others, traveling, hiking, and trying out new hobbies.

As Leah will tell you, I am both very silly and also very committed to providing for my family. During the day I work as a healthcare lawyer. My time outside of work is spent running around with our two goofy dogs Ruby and Prine, helping my friends and neighbors when they are in need, cooking elaborate meals, and trying (sometimes unsuccessfully) to make Leah laugh.
I grew up on a ranch in southeastern Oklahoma where I spent my days as an "explorer" finding secret paths and treasures, and true-life secret blackberry gardens my grandmother planted all over. Those days established and shaped an appreciation for nature that I still have today and am excited to share with our future child.

After attending college, I moved to DC to work in politics, and later started my own business that I still run today. I am deeply attached to my family, my friends, traveling to (and photographing) new places, and all things creative. I enjoy reading, writing, listening to music, cooking, and helping others with their creative endeavors.