Our Story
Have you ever heard the saying "When you know you know..."? Well that's how we felt when we became a couple. Janelle and I worked at the same veterinary hospital and began dating and within 7 weeks were engaged, and within 7 months were married. 5 years later, we are married and ready to start a family :) A lot of our life revolves around our fur babies. We have four small dogs and one medium sized dog and several rescue cats. Hazard of the job of being a veterinarian...animals that need homes find you. We both work and are blessed to be able to work three days a week each so we have a lot of time to be at home with our family. We don't have any children and want to have at least two since we each grew up with a sibling and know how great that can be.
Janelle is a nurse, an avid reader, runner, is aware of the latest fashion trends and is learning to cook vegetarian cuisine. I am not a fashion guru and am currently learning how to be a dog trainer and am pursuing a masters in clinical animal behavior. In our time off together we like to hike, camp, play with the dogs in the backyard and walk them. We also work on home renovation projects together and are currently working on renovating our family room downstairs. Family is very important to us. We live close to my mother, Janelle's aunt and uncle and her grandfather and we see Janelle's family out of state multiple times a year and my dad out of state at least twice a year. Let us know what else you would like to know about us and we will be happy to tell you!
Our Home
We live in a 3 bedroom 3 bathroom split level home in a safe, quiet, suburban neighborhood. Our two neighbors have each lived in their homes for the past 30 years. We have a large fenced backyard with a brand new fence and have done several home improvements in the past few years including new front steps, siding and paint. Our backyard has a garden, is beautifully landscaped (came that way) and has enough room for a playhouse and/or swing set one day for a child. Hummingbirds and other birds visit regularly and we have a nest of baby birds every year in one of our eaves. There are large windows and lots of natural light and when you are upstairs it feels like you are in a treehouse with views of multiple trees and arbor vitae.
We live a few blocks away from the local elementary school and middle school and a block away from a park that was just redone last year to make it geared toward kids with a basketball hoop, jungle gym, swings and a walking trail. The family room we are renovating has a sliding glass door that opens to the backyard and will be a great play area and place for family get togethers. Every room is childproofed and baby gates are already in place.
Vanessa is a veterinarian and has been at the same practice for almost 10 years. Her job is stable and flexible and has great benefits. While not taking care of dogs and cats Vanessa enjoys reading, walking, training dogs, hiking/camping, and gardening. She is currently pursuing a masters in clinical animal behavior.
Vanessa grew up in a small seaside town in New York and went to Cornell for college. She has since lived in St. Kitts, Ohio, Oregon and Washington. Vanessa has called the Pacific Northwest home for the past 13 years. She and Janelle enjoy time with their pets, exercising together, sharing meals, movie nights and traveling.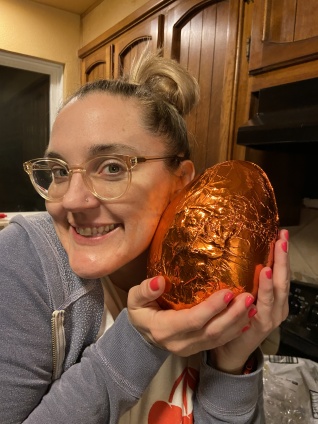 Janelle is a registered nurse and has a fun, outgoing personality. She has a great sense of humor and loves cats, sushi, being social with friends, outdoor activities and is always up for trying something new. She grew up in the Pacific Northwest and also spent part of her childhood in Florida. She loves traveling to new places and equally enjoys spending time at home with our dogs and cats. Though cooking is not her favorite activity she is a great cook!
Janelle's job allows for large blocks of time at home and has great benefits including medical, maternity leave, etc.