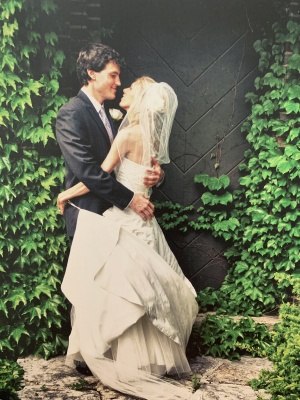 Our Story
We met shortly after college through mutual friends and instantly felt a connection. We were both living in different southern California cities when we met but that didn't stop us from keeping in touch. After about a year of dating I moved to be closer to Ronny and two years after that we were engaged. We went on many adventures together. We spent time outdoors and with each other's families. We went to church together, the beach, restaurants, movies, and road trips to friends weddings. We had casual days just hanging out and spending quality time with each other. We complimented and challenged each other and have continued to do so over what has now become 10 years of marriage.

We are so hopeful that our next adventure together will be a successful adoption story. Being the oldest of five children and Ronny being the third of seven we have always dreamt of a large family of our own. While fertility issues prevented this, it has led us to adoption and for that we are so grateful. We have a huge support system (both local and around the United States) rooting for us and anticipating the arrival of our newest member. There will be no shortage of people to love and support your child throughout their entire life. We will keep our promises to you and your child. We don't know you yet, but we cherish you as well .

Our Views on Faith and Education

Our Faith: We believe in forgiveness, not holding grudges, loving others well, helping your neighbor, living with a generous heart, and showing respect and giving value to people. We are raising our children as non denominational Christians. Having a personal relationship with the Lord and understanding that Jesus loves them very much and they are filled with purpose and strength. We have a vibrant and non judgmental church family who creates spaces for people to find their passions. We are not perfect but try to model patience, love and kindness at home. We strive to live our lives as an example of the biblical principles that we teach. We attend church regularly and our children participate in the children's programs. I (Lauren) volunteer in the children's ministry. For preschool we have an amazing Christian preschool down the street from us that we love.

Education: We cannot wait to see how your child grows and develops. We know each child has different needs when it comes to learning and we will find the best place for them to thrive. Currently we are planning to send our children to public school. We bought our home in the area we did because of its incredible school district. However, when our schools were not open at the beginning of the year we decided to put our son into private kindergarten so that he could learn in person. Now that public schools are fully open our son will be going to the school down the street from us next year. We are willing and able to change plans when it's the better choice for our children. Ronny and myself are college graduates and we appreciate the experiences that college provides and the doors that a college education can open. We hope that all of our children will attend college, and they will be provided the opportunity to do so. However, if any of our children are called to a different path we will support them and help them to find the best way to follow their dreams.


Our Home
Our home has 4 bedrooms and 2.5 baths. It is cozy and bright with lots of natural sunlight. We love where we live. We are located about 2.5 miles from the beach in a gated community that is full of young families, many of whom we are friends with. We have a community pool that is gated and easily walkable from our house. Many summer days and nights have been spent at that pool with friends. Our community is welcoming and friendly and will embrace your child.

It's our family that makes our house a home. We cannot wait to welcome another child into our family. We will tell your child that we love them probably a billion times every single day. We will soak up the sunshine at the beach, they will laugh with their siblings as we cook in the kitchen. They will be another sweet face running around in the yard on summer nights. They will be born with built in besties in their older brother (age 6) and sister (age 2) who are soooo excited to meet them. We will wrap our arms around them, we will read to them, sing to them, and in the peaceful calm of their room we will rock them to sleep whispering stories of you, how you chose us and how special they are. The list could go on forever of all the memories we hope to share. We will always love, support and protect your child to the very best that we know how. We promise to teach him or her about Jesus and as they grow we promise to help them explore their own unique gifts and interests. We love being parents.
I enjoy playing basketball, running, lifting weights, going to the gym, listening to church sermons, cruising along pacific coast highway and listening to music alongside the ocean, watching sports, walking our dog, going to the beach, participating in my children's activities, and spending time with my family and friends.

Ronny (by Lauren)

Ronny is kind, cares about others and is a strong Christian. His gifts include his ability to get along with others and treating people with respect. Ronny is a caring and compassionate person in both his personal and professional life. At work, Ronny's clients enjoy working with him. He makes people feel comfortable and is always sharing his knowledge with others. Ronny is the "boss" at work but can frequently be found serving his staff. He always take the time to train them and help them learn the skills needed to get ahead in their own careers. In his personal life Ronny comes home ready to be present and engaged with me and the kids. He leaves work at work. Ronny considers the needs of other, which is just one of the many traits that make him an amazing husband and father. I love him for all the reasons above and because he has proven time and time again that he is loving, trustworthy, reliable and fun. He has always shown unconditional love and made God and our family his priority.

Ronny is the ULTIMATE dad. He loves Jesus and conveys this to our children. He teaches them the important life lessons and values but is completely the stereotypical "fun dad". He is always down to play with the kids. Whether it's made up games, board games, any and all sports, at the beach, the pool, you name it, he's game. He can be found coaching our son's sports teams, kicking soccer balls in the back yard, shooting hoops, reading bedtime stories with the most hilarious voices, he shows up for our kids. He cannot wait to add another child to our crew.

I enjoy date nights, family time, taking walks, playing tennis, relaxing by the pool in our community or reading in our backyard. I love grabbing coffee/lunch/dinner with friends, going on hikes, trying new cooking recipes, interior design, women's bible studies, travel and the everyday tasks of managing our family schedule, our activities and our budget. I love my husband and I love being a mom.

Lauren (by Ronny)

Lauren is friendly, a good listener, thoughtful, outgoing, athletic, communicative, smart, happy and social with a good sense of humor. Lauren is really talented and could have been successful at anything. She chose to stop working and to focus on motherhood with my full support. She is passionate about being a wife and mother and is good at both. She is patient, does her research, and takes her parenting job seriously. Lauren is often the one spearheading date night, lining up a babysitter (usually my mom or sister, the perks of local family) and making sure we have quality time for the two of us. I love that she is considerate of my needs and is flexible with schedules. We share our Christian values and I respect and love her.

Lauren is a great mom. She is hands on with our kids from morning to night. She is loving, full of snuggles, and always ready to tell our kids how special they are, just for being who they are. She is always looking out for their best interests. She keeps the kids active while also making sure they have enough downtime to rest and recharge. Lauren puts effort into the little things, like preparing well balanced meals and snacks, making sure they have enough water and get enough sleep, to the bigger things of planning for their futures. Lauren tries to set them up for success in their days and also for life. She instills the importance of loving Jesus, manners, kindness, hard work, and loving themselves and those around them. Lauren loves our children unconditionally and cannot wait to add another child to our family through adoption.