Our Story
Hello, we are Chandler and Steve.

HOW WE MET

We were introduced through our mutual friend, Maria, an actress Chandler worked with in one of his Broadway plays. We met in the West Village for what was supposed to be a coffee that became dinner that turned into a five hour first date!

Chandler: As we were leaving, Steve stuck his head through to the kitchen to thank the staff for staying open for us - and I had this overwhelming feeling as I walked behind him… I mean, I thought we were just leaving the restaurant but there he was thanking the chef, the waitress, the hostess. And it wasn't just his genuine thoughtfulness but something too about the way he walks. He's quite tall and his torso is slightly longer than his legs, like his lower half is always trying to catch up to the top of him (when he hurries I call him Sasquatch!) - and I realized I was head over heels in love.

Steve: Since the beginning of our courtship, both Chandler and I have been on the same page about having kids. We both feel we have so much to share and want to devote our lives to raising a child. We're both so different. Chandler is creative and I am a businessman, we look at the world in different ways and I think together we will be able to raise children who are well balanced, compassionate, empathic and kind.

OUR WEDDING

It became a three-day event in Chandler's hometown. Nearly three hundred family and friends crammed into the church down the lane from our summer house, a gigantic three-masted party tent covered the hill in our backyard.

Steve: On September 10th 2016 when Chandler and I looked out on our wedding congregation, his mom Betty and my adopted dad Keith stood with us.

Chandler: We didn't need to fuss over which friend or cousin should be picked as groomsmen. There was never any question. On either side, Mum with me and Keith with Steve, our greatest champions.

OUR FAMILY TODAY

Our immediate family now consists of Chandler's mother Betty, Steve's adoptive dad Keith, and our Irish wolfhound: a big sweetheart named Gryffin!

We live in a beautiful part of Connecticut. Down a twisting country road sits our big brick colonial on six acres. On both sides and in the back, we're embraced by an eighty acre Nature Preserve with hiking trails and sloping woodlands.

The first thing to draw us in when we walked around the property was the giant Catalpa tree, old as the oldest part of the house. Like an elephant with three trunks smiling up out of the ground, it makes the entire backyard seem like a wonderland. The first time we stood there together we just knew: THIS is where we'll raise our family.

Chandler: One of the best things about our home is that there's room enough for everyone. I'm lucky to have a husband who, when we were looking for houses the first thing he asked after he knew we both liked it was, "where's your Mom's room?" Steve and Mum are extremely close. As Mum says, she got another son. And Steve got a mother/son relationship which he never really got to experience growing up.

Steve: Betty has her side of the house off the kitchen, while my adopted Dad Keith, has his rooms in the middle. Just as I gained another Mother with Betty, Chandler gained another Father in Keith. They're both with us a good deal of the time. Betty comes for Thanksgiving through New Years and for visits throughout the year. Keith is with us for all Holidays and most weekends. Our vacations are usually the four of us - always hilarious!

Eventually Betty and Keith will both live with us full-time, which will be a hoot. Meanwhile, they come and go and keep their independence. Of course, once a child is in the picture the newly-minted Grandparents will be here for good! We know this child's life will be strengthened by being raised in a multigenerational home with strong bonds to his or her Grandparents.

IN THE SUMMER

Steve: Our summer home is an old shingle style cottage surrounded by the ocean and an entirely different kind of outdoor experience from our life in Connecticut. The community up there features tennis courts, a golf course, an Olympic-sized swimming pool and a yacht club. There are junior programs all summer long. It's where Chandler learned to sail. We love imagining the possibility of introducing a child to these experiences and doing all of them together.

OUR VALUES

Education plays an enormous role in our lives and we place a high value on it. Our home is filled with books (we are so ready already for storytime)! We believe that by imparting our own love of learning, from cooking to the piano, a child will be encouraged to develop their own creativity and imagination. It's important to us that we foster a sense of curiosity, the ability to express themselves and communicate, so that they can feel at ease anywhere they go.

Becoming parents is a commitment we look forward to making and one we take seriously. We've been building a life together that will support and be dedicated to exactly that: Family as a priority.

OUR PROMISE

Though we can never fully grasp what it must be like to be in your position, we do know it takes courage. We have that in common. Courage is something the three of us have in spades! Whether you choose our family or not, we are grateful to know there are people like you in this world. It takes courage (and then some) to live your truth, openly and unapologetic. So if you do choose us, please know this: your baby will grow up embraced by unconditional love, in a secure and stable home, free to explore and realize what dreams may come. Guiding your child on their journey, committed every day to earning the title "Dad," will be our life's work.

LET'S BE IN TOUCH

If you'd like to get to know us better, we'd love to learn more about you and your hopes and dreams for your child.

You can call, text or email us anytime.

If you have questions about the legal process and the steps involved, our attorney, Suzanne Nichols, will be happy to talk with you.

Thank you for reading this far!

Love,

Chandler and Steve

Our Home
OUR FAMILY TODAY

Our immediate family now consists of Chandler's mother Betty, Steve's adoptive dad Keith, and our Irish wolfhound: a big sweetheart named Gryffin!

We live in a beautiful part of Connecticut. Down a twisting country road sits our big brick colonial on six acres. On both sides and in the back, we're embraced by an eighty acre Nature Preserve with hiking trails and sloping woodlands.

The first thing to draw us in when we walked around the property was the giant Catalpa tree, old as the oldest part of the house. Like an elephant with three trunks smiling up out of the ground, it makes the entire backyard seem like a wonderland. The first time we stood there together we just knew: THIS is where we'll raise our family.

Chandler: One of the best things about our home is that there's room enough for everyone. I'm lucky to have a husband who, when we were looking for houses the first thing he asked after he knew we both liked it was, "where's your Mom's room?" Steve and Mum are extremely close. As Mum says, she got another son. And Steve got a mother/son relationship which he never really got to experience growing up.

Steve: Betty has her side of the house off the kitchen, while my adopted Dad Keith, has his rooms in the middle. Just as I gained another Mother with Betty, Chandler gained another Father in Keith. They're both with us a good deal of the time. Betty comes for Thanksgiving through New Years and for visits throughout the year. Keith is with us for all Holidays and most weekends. Our vacations are usually the four of us - always hilarious!

Eventually Betty and Keith will both live with us full-time, which will be a hoot. Meanwhile, they come and go and keep their independence. Of course, once a child is in the picture the newly-minted Grandparents will be here for good! We know this child's life will be strengthened by being raised in a multigenerational home with strong bonds to his or her Grandparents.



IN THE SUMMER

Steve: Our summer home is an old shingle style cottage surrounded by the ocean and an entirely different kind of outdoor experience from our life in Connecticut. The community up there features tennis courts, a golf course, an Olympic-sized swimming pool and a yacht club. There are junior programs all summer long. It's where Chandler learned to sail. We love imagining the possibility of introducing a child to these experiences and doing all of them together.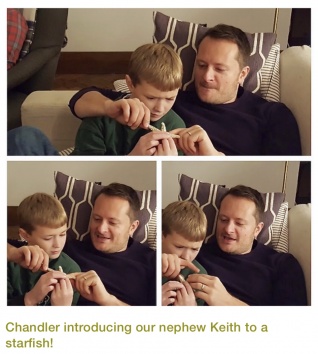 My name is Chandler. I'm an actor - I'm also a lot of other things - but my life as an actor has, I think, shaped me the most and helped make me the man I am today. My work on Broadway, on television and film, has taken me around the globe. After many plot twists, it was work that veered me directly into Steve! But before all that…

I grew up in a small fishing village on the East coast. And when I say small I mean tiny: just shy of four hundred, most of them related to my Mother! I'm an only child. My parents, Betty and Chandler, both survived difficult first marriages and always described meeting one another as their second chance at love.

Neither of them had any direct connection to the performing arts, but each encouraged me to dream my own way. My first and only day of Little League, I remember the coach starting practice off by having us do laps around the field. I made it around once, then dragged myself over to him: "how do you expect me to play ball after doing this three times?!" Dad just took my hand calmly and we walked home. I started piano lessons the next day!

Steve: I love listening to Chandler play the piano. I remember the summer he started to teach our nephew Keith how to play. Seeing the care and patience he took, and the look on Keith's face, I just knew what an amazing father Chandler could be.
Hi! I'm Steve. I grew up in the suburbs of the mid-West and come from a very mixed family of siblings, half-siblings, and steps. My parents were divorced by the time I was a year old. The saving grace of my childhood was the love and attention I received from my Grandpa Jim and Grandma Janet. Both retired teachers. They were my rock.

Every summer vacation I spent with my Grandparents at their lake house in Canada, surrounded by many of my mother's siblings who became (and still are) an important part of my life. Seeing how they lived their lives with happy and stable families gave me the role models I needed.

I moved to New York City for college, eventually earning my Masters in Real Estate Development. During this point in my life, I met my guardian angel and the man I consider to be my adoptive father, Keith. Like my Grandparents before him, he took over where they left off. My extended family adopted him, too! My sister, Liz, named her second son after him. Her firstborn is named after me.

Chandler: Liz and our nephews, Steven and Keith, stay with us every summer and Thanksgiving - the day after we always chop down our Christmas tree together, which every year seems to get bigger! Last summer we took them on a cruise to find puffins and seals. They were really scared at first being on the ocean, but their fears seemed to melt away as long as Steve was standing with them. I remember looking around the boat and realizing that everyone just assumed Steve was their Dad. I said a silent prayer then and there that one day we could make it real and have a child of our own.