Our Story
We were blessed to meet halfway through our lives. Our dream now is to create a family, to share the joy and fulfillment we have discovered in each other. We have so much more love than we knew was possible and we want to share that love with your child

Chap was previously married and has three teenage children. He has a close, loving relationship with them, as does Lyn, and proudly co-parents with his ex-wife. Lyn has a loving and supportive relationship with her parents, two sisters, and her nieces and nephews. She has been intimately involved in their lives since birth, attending sporting events, school plays and celebrations of all kinds. Everyone in our blended family looks forward to welcoming your child with love.

We have formed a fun-loving, affectionate, extended family that supports and encourages one another. We have so much love in our lives and the only thing that could make it better is a child to raise, teach and comfort.

Our desire to adopt is born from wanting to open our hearts and home to a child that would benefit from what we have to offer. That includes endless amount of love, security, and stability. By helping one another, together we can give your child everything you want for him or her, resulting in the brightest future imaginable.

Together, along with our extended family, we promise to love you and your child. We will always treat you with the respect you deserve and your child will know you made this plan for him or her out of love. Please know that you are not alone in this process or in life. Let's work together to ensure your child has everything you want, and that you create the adoption plan that feels comfortable for you.

Thank you for taking the time to get to know us and for considering us as potential adoptive parents for your child. If you have any questions for us or would like to get to know us better, please let us know. We would be happy to speak with you and meet with you if that is your wish. Your comfort during this time is what matters most.

With love,

Lyn & Chap
Our Home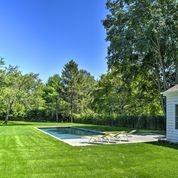 We live a few blocks from town and the beach. Our home is bright and warm and a gathering place for family and friends of all ages.

Lyn's parents love to visit for relaxing meals and socializing. Chap's children find it a calm change of pace from their busy high school lives.

Our home has a pool and a big yard for kids to explore. It's perfect for barbecues and family games. Chap's children and Lyn's nieces and nephews have all given it the "Approved By Kids" award. We can't wait to share all of this and more with your child.
Lyn grew up in Brookfield, CT. She is the youngest of three girls. As a child, she loved dance, enjoyed sports and worshipped her older sisters. She was the kind of girl who would wear her tutu around the house, even when she didn't have dance class.

Lyn is intelligent, loving, and generous. She loves to be active, to exercise, and to play sports. She has been a loving presence in the lives of her nieces and nephews since they were born. Lyn is a careful planner and loves to plan activities and trips for family and friends. She looks forward to planning for one more.

Lyn is a little bit of a worrier. Chap is her rock and a source of calm and assurance.

Her greatest dream is to become a mother.
Chap grew up in Seattle, WA. He is the oldest of three children. As a child, he loved reading, exploring and mysteries of all kinds.

Chap is warm, disciplined and devoted to Lyn and his children. He tells stories for a living and has a powerful imagination. He also likes to be silly. Chap loves being a dad which is one of the first things that drew Lyn to him. Whenever we get together with our friends and their little ones, Chap engages them in adventures, conversation and reads them stories. He is always the one who ends up with kids on his knee.

Chap loves holidays. He loves decorating the house, cooking special foods and sharing the magic of celebrations with family and friends.

Lyn inspires him to be more active and adventurous. She loves planning family activities with Chap's children.

Being a father has been the most important and rewarding experience in Chap's life. More than anything, he wants to share the experience of being a parent with Lyn.