Our Story
We met all the way back in 2002 but really connected in 2007 and have been together since then. Our life together has been mostly wonderful but of course with some downs as well. We both work really hard and have put ourselves in what I would call a comfortable life. We are constantly surrounded by many friends and family but also enjoy our alone time, relaxing outside, laying by the pool, or lazy days watching movies on the couch. We like to travel, to go see live concerts, eat well, and pretty much do anything outside when it is nice. We love our animals so much and never imagine a life without furry "children". We are ready for the next chapter of our lives with a little one. We have never been so nervous and excited all at the same time!
Our Home
We live in the Park Circle neighborhood of North Charleston, SC. We are in the Olde Village area. It's a progressive neighborhood with many locally owned businesses and restaurants within walking distance. Local outdoor festivals and community gatherings make this community special to us. Our modern open floor plan home sits on a corner lot and has a large fenced in backyard with pool and outdoor dining/hang out/family area. We have many longtime friends in the area as we have been at this location since 2007.
I grew up in Brazil with a relatively small family but we had a lot of fun. My brother and I both participated in many extra curricular activities such as various sports, music, and English lessons. My mother believed in what she calls "a full education" but unfortunately for me and everyone else, she never put me in any singing or dance classes. There was never a pressure to do it all or any of it, we were just supported and encouraged to do anything we wanted/liked. That is how I believe I would raise our child, with support and encouragement to do/to be anything they want.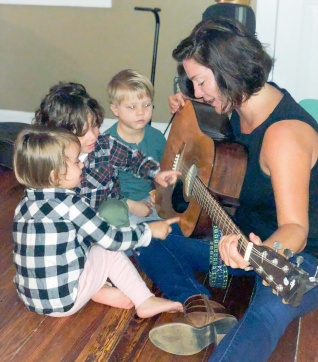 I grew up in a family surrounded by love and encouragement and will promise to provide the same to our child. My family valued education as well as sports and extracurricular activities. Education was at the forefront of my parents goals, but it was equally important that I be active outside of school. I share these same values as an adult. As a young girl, I spent a lot of time in dance and gymnastics, and in my teen years was more interested in sports; tennis in particular. Aside from sports, I spent a lot of time on the coastal waters in the Savannah, GA area. This had a big impact on my life and I love anything outdoors on the water. I am looking forward to teaching our little one their way around a boat to fish, crab, shrimp or just cruise around on the open water. I consider myself a little nerdy in a technical way. I know my way around a computer and pro audio. I love to read, play the guitar (and other instruments not as well), and cook. That being said, I am all over the place with the things I enjoy and am open minded. I want our child to have new experiences and figure out where they want to land in this world. I will encourage them to reach the stars and become the best they can be at whatever they want to do. Along the way, I promise to be loving, compassionate, and understanding.