Our Story
We met in Miami, Florida and immediately knew we had found "the one." Our first date was at an outdoor jazz concert underneath a full moon. We listened to the music and a casual date turned into hours of endless conversation and so much laughter. Our first date led to the second date the next day, then a trip to the beach together the next day...and it never stopped. We are so lucky to have found each other and now we're equally as lucky to have found you.

On our first date we talked about how we both wanted to be parents and being dads was something that we knew would help us be connected with each other.

Our Home
We live in San Francisco, California in a part of town near the Ballpark where the SF Giants play. Our neighborhood has 4 parks for kids within 2 blocks of our house and we have a pool, hot tub and grills for being outside as a family. Our community has tons of parents with young kids so our child will have lots of friends for play dates and fun times at the park. We love hiking in the Redwoods around San Francisco and the Beach is always a favorite for us as well.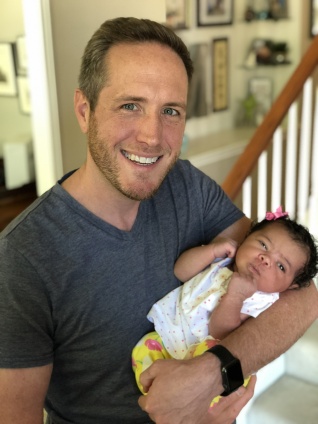 Most people in my life describe me as their "cheerleader" or "hype man" and I think that helps highlight a bit about who I am. I love life and I love encouraging others. I am most comfortable when I'm helping those around me and I'm a nurturer to those in my life. I am optimistic, positive and believe you can always choose to be happy - no matter your circumstance. I hope to help infuse this joy for living life in my child!
Most of my friends and family tell me I'm the guy who always has a smile. I'm a positive force in people's lives and am always joking and trying to make everyone smile. I'm always down for an adventure and creating fun memories with the people I love. I am the happiest when I am experiencing new things with my family and friends. I am excited to be a dad and take my kid on all my fun adventures!